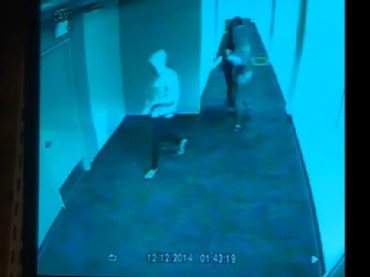 Security camera footage obtained Sunday by The College Fix shows a group of females changing into hoodies and other baggy clothing and proceeding to vandalize a conservative student's apartment doorway.
Angry messages scribbled on papers posted around student Omar Mahmood's doorway labeled him a "dick" and "scum" and included an image of the devil, as well as eggs, gum and hot dogs.
The camera footage was taken inside Mahmood's apartment complex, which is just outside the campus property. Mahmood is known at the school as one who holds conservative and libertarian beliefs. The 21-year-old junior, who is double majoring in comparative literature and evolutionary anthropology, has written against the campus' progressive social justice movements.
On Friday, The College Fix reported on the contents of the vandalism, which included papers stating: "You scum embarrass us," "you self-righteous dick," "you have no soul," "everyone hates you you violent prick," and other derogatory messages.
The vandalism occurred at approximately 1:43 a.m. Friday and was discovered later that morning.
On Friday night, Mahmood filed a police report, and said he was advised to file a personal protection order against the women once they are identified. He also has an appointment scheduled with university officials on Tuesday for further investigation.
The video shows three women throwing on large hoodies and other baggy clothing that might mask their appearance while on the eleventh floor. Then they go to the sixth floor where they put the fliers and other paraphernalia on and around his doorway before taking pictures of their act and scurrying out.
Some of the warnings posted on his door were written on a print out of Mahmood's satirical essay he wrote recently for the conservative campus publication the Michigan Review that poked fun of liberals' victimhood mentality. That column, titled "Do the Left Thing," caused an uproar among some on campus and triggered his termination as a columnist from the mainstream Michigan Daily student newspaper.
On a printout of "Do the Left Thing," the vandals wrote: "Shut the fuck up."
(Pictured below: Omar Mahmood, and vandalism left on his doorway).
One of Mahmood's roommates, in an email to The College Fix, recalls coming home from a late night of studying for finals to find the vitriolic clutter.
"I had to do a double take when I saw the mess that was left, but after realizing that Omar Mahmood has been targeted in the last couple of weeks, I knew that the vandalism was in response to the 'left-handydness' piece that he's published in the Michigan Review a couple of weeks ago," stated the roommate, who asked to remain unnamed. "Hot dogs, splattered eggs, and threatening posters were left on our doorsteps. While I may not share some of the same views that Omar espouses in his writing, I fully support his right to voice the opinions he has without being targeted."
"I myself, even though I don't share the same conservative views, have been targeted solely due to my being … a close friend of Omar's," he added.
In an interview Friday with The College Fix, Mahmood said he felt "taken aback" by the attack.
"I feel targeted," he said. "The messages were clearly threatening. These people don't know me personally, so I don't know why they would do this with such vengeance. This seems like a very personal attack."
College Fix reporter Derek Draplin is a student at the University of Michigan and editor of the Michigan Review.
Related: Read the hostile column that got student writer suspended by campus newspaper
Like The College Fix on Facebook / Follow us on Twitter