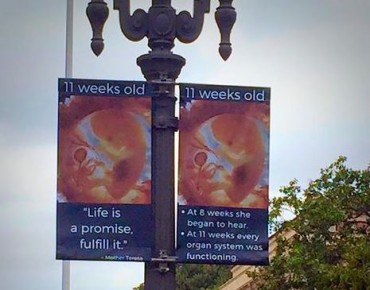 UPDATED
This is the second consecutive year pro-life display at USC targeted
LOS ANGELES – In the morning they were up. By the afternoon, they were gone.
Detailed and colorful pro-life banners hung Tuesday morning to light fixtures at USC showing fetuses in the womb were swiftly removed at the private Los Angeles campus.
The banners featured 11-week-old fetuses, such as the ones shown here with the Mother Teresa quote "Life is a promise, fulfill it," on one and "at 8 weeks she began to hear … at 11 weeks every organ system was functioning" on the other.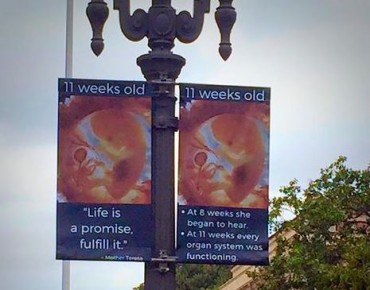 Later Tuesday, the flags were gone. Toward the bottom of the fixture was a sign that read: "Women deserve the right to choose."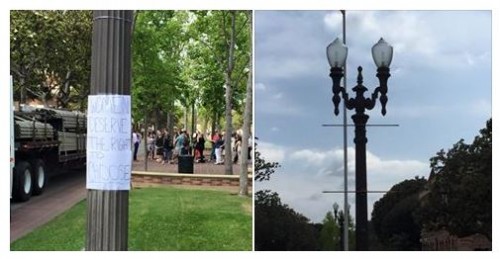 USC Students For Life had arranged to have the pro-life banners hung. Grad student Lisa Ebiner Gavit, its former president who was heavily involved with this banner project, emailed The College Fix early Wednesday to express her disappointment over the banners' removal.
"USC Students for Life was deeply disappointed by the actions of the USC administration … when they decided to remove our pro-life banners from campus," she said. "Our student organization had gone through all the proper administrative channels to reserve the space and install the banners, and we were heartbroken to see that they were taken down after being up for only a few hours. They were supposed to stay up for two weeks. This shuttering of free speech is disappointing, to say the least."
A total of 12 banners on six light posts were removed, she said. Images of additional banners are posted on the group's website. The banners were associated with the club's final event of the semester, a baby shower for a local pregnancy resource center, and aimed to "show pregnant women that abortion is not their only option," she said.
"If people want to email the administration, please have them respectfully register their disappointment with USC by emailing the Vice Provost of Student Affairs, Ainsley Carry: [email protected], and the President of USC, Max Nikias: [email protected]," Gavit added.
University student government senator and USC College Republicans member Jacob Ellenhorn told The College Fix on Tuesday he disagreed with the decision to take down the banners.
"[Gavit] told me that the USC office that hung up the signs for her this morning took them down because they did not advertise a particular event or organization," Ellenhorn said in an email to The Fix.
He added that that reasoning doesn't really make sense.
"This is strange because rainbow banners for gay pride were up on campus last semester and did not advertise an event or an organization. The same was true for banners hung up during black history month," Ellenhorn pointed out.
In discussing the matter on Facebook, several USC students stated they were upset by the development, that the fact that gay pride banners may wave but not pro-life ones smacked as hypocritical and viewpoint discrimination. Among them was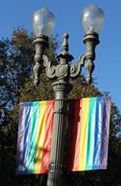 Ellenhorn.
"It is unbelievable that USC removed all the posters that were put up around the school," he stated. "They were put up through all the proper channels. It seems as though not even USC can stand for intellectual diversity. Why stop an authentic conversation about abortion? What is so offensive about the facts of life?"
This is not the first time a pro-life display at USC has been targeted. In January 2014, the USC Students For Life's prolife display of white hearts and informational posters to mark the Roe v. Wade anniversary was repeatedly vandalized, their posters ripped and crumpled.
That same day in 2014, when Gavit had walked into her women's studies class, she came face-to-face with a large picture of her prolife display projected onto the whiteboard. Then she heard her professor and some classmates laughing about the display, commenting that the prolife students who put it up must have been too scared to stick around and defend it or talk to passersby. Others wondered out loud if the display was approved by campus administration.
UPDATE–Monique Allard, USC's assistant provost for student engagement, contacted The College Fix at 5:24 p.m. April 22 with this statement:
"Recently the USC student organization Students for Life submitted a request to mount banners on light poles along Trousdale Parkway. Trojan Events and Services, a unit of Student Affairs, approved the request in error. Banners may only be mounted along Trousdale if they identify an academic program, department, or event as specified by university policy. The banners did not identify an academic event but instead advertised the services of an external organization.

"Student Affairs regrets the error and will reimburse the student group for the cost of producing and installing the banners.

"We are working with the student group to find other means of communicating their message, as they do regularly here and at other universities. We respect students' constitutional right to free speech and only impose reasonable time, place and manner regulations. The university is a diverse community based on the free exchange of ideas, and we encourage free inquiry and discussion."
Like The College Fix on Facebook / Follow us on Twitter
Editor's note: The story was updated Wednesday to add a statement from Gavit and clarify her role with USC Students for Life.