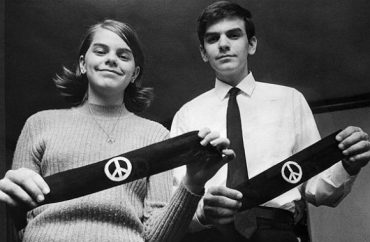 'She was a child. And speech was all she had'
It's tough being a liberal Democrat who supports free speech on campus these days, like the University of Pennsylvania's Jonathan Zimmerman.
The history professor recently shared his gloom in The Philadelphia Inquirer that he's become a de facto "conservative" in the realm of the campus, where students believe they have a moral imperative to silence viewpoints they consider racist.
As Zimmerman says, that's a view at odds with "every great champion of African American freedom in our history," including Frederick Douglass, who once said speech suppression is the equivalent of theft.
He has some interesting theories about this growing intolerance for diverse ideas, including the decreasing stigma around mental health problems and the rising use of social media:
Arriving on campuses made up of diverse groups, students are warned that their comments and behavior could cause psychological distress to any of them.
But what's really interesting about his op-ed is Zimmerman's description of his students recently meeting a woman whose name is a major Supreme Court precedent, Mary Beth Tinker.
MORE: Angry mob shuts down Blue Lives Matter speech
I met Mary Beth Tinker today after teaching the Tinker v. Des Moines case for over 10 years! I'm inviting her to speak @DunbarHSDC. pic.twitter.com/RJ9buo784S

— Shelina Warren, NBCT (@shelinawarren) March 31, 2017
As a student during the Vietnam War, Tinker wore a black antiwar armband to school and won the right for students to express themselves as long as they didn't create a "substantial" disruption in school.
She has continued to get involved in First Amendment issues, arguing for the right of California students to wear American flag-themed clothing during Cinco de Mayo, and even starting an educational "Tinker Tour" with the Student Press Law Center.
Zimmerman's students clearly didn't know what they were getting into when they tried to defend their censorious attitudes to Tinker, as the professor recounts:
All of my students said they should be allowed to engage in antiwar demonstrations, of course, but they drew the line at racist or sexist speech that causes – yes – psychological injury. But Tinker wasn't having it. Surely, she said, parents whose children were fighting in Vietnam – or, especially, students whose parents had died there – were profoundly wounded by her very public act of protest. Yet that wasn't a good enough reason to silence her, or anybody.
You get the feeling that if Mary Beth Tinker were invited to speak on campus by a College Republicans chapter, she would be shouted down and denounced as a white supremacist colonialist imperialist blah blah blah:
Other students argued that free speech is really a matter of power, which has become another popular line on our campuses. In a society marred by racial inequality, the argument goes, speech is used by whites to oppress minorities. Hence white speech must be restrained, so that minorities can be protected.

But Tinker wasn't buying that, either. Historically, free speech has been a weapon – often, the only weapon – of the powerless, not the powerful. At the time her case began, Tinker reminded us, she was a child. And speech was all she had.
It's amazing that Zimmerman's students and thousands of others are so blind that they can't see all of their anti-racist, anti-classist, anti-fascist advocacy is speech – and it's just as vulnerable to censorship when an administrator decides it is psychologically injuring someone else.
MORE: First Amendment legends demand students' right to wear the flag
Like The College Fix on Facebook / Follow us on Twitter