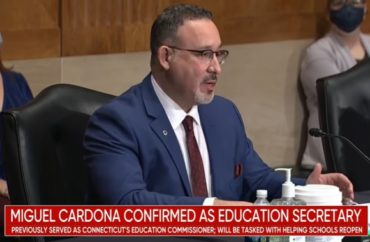 Miguel Cardona confirmed Monday
"Standard operating procedure."
That's how David Randall with the National Association of Scholars described the heavy influence Washington bureaucrats are expected to exert over the newly minted Secretary of Education Miguel Cardona.
Randall, in an email interview with The College Fix, said that Americans "may reasonably expect grave damage to be done to higher education by any and all of the dozens of anonymous bureaucrats setting higher education policy at the Education Department, because of their radical ideological convictions."
Cardona was confirmed by Congress Monday in a 64-33 vote that ran mostly down party lines. Thirteen Republicans broke rank and sided with Democrats.
The Education Department employs thousands of people and also manages over $1 trillion in student loan debt, USA Today reports.
The Department of Education has an annual budget of approximately $73 billion, according to the Committee for Education Funding, and the majority of that is earmarked for higher education, with $50 billion for Pell Grants alone.
However, Cardona's experience includes little in post-secondary schooling. His bio boasts only four years as an adjunct faculty member with the University of Connecticut and the primary focus of his career rests with K-12.
Adam Kissel, a senior fellow with the Cardinal Institute for West Virginia Policy, said in an email to The Fix that Cardona's lack of higher education experience is not uncommon for secretaries of education.
However, he added, Cardona's minimal credentials with higher ed hopefully "should counsel humility and a minimalist approach."
In particular, Cardona's Ed.D does not "confer the title of doctor in most settings," nor prepare him for policy recommendations, Kissel said.
Others have expressed concern that he will only institute effective policy through the team he works with. A parent with the Connecticut Parents Union commented to EducationWeek that, "To be honest, if he doesn't have a nice team around him, I think he's going to be in for a challenge."
"I'm just concerned about the experience, or lack thereof. … I think he's a goldfish in shark-infested [waters]."
Cardona will likely rely on public administrators to make decisions.
Current challenges facing the department include COVID-19 reopening protocols, mounting student debt, and Title IX adjudications, which caused much controversy under the former administration.
Some warn there also may be new regulations coming down the pipeline stemming from the Equality Act that might concern conservatives.
"Dr. Cardona's views on issues such as treating biological men as women are entirely consistent with the conventional wisdom that has prevailed among CCSU faculty and administrators since Dr. Cardona was a student here, namely that America is irredeemably racist, sexist, homophobic, and Islamophobic, and seeks through colonialism and imperialism to dominate the world," said Jay Bergman, a professor of history at Central Connecticut State University, in an email to The Fix.
MORE: Connecticut now requires high schools to offer black, Latino history courses
Like The College Fix on Facebook / Follow us on Twitter