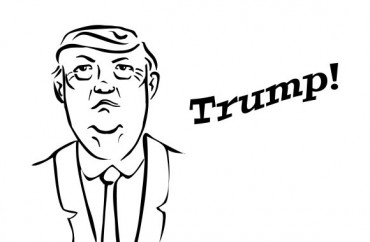 A group of Connecticut high schoolers may face disciplinary measures after they had the unmitigated gall to hold "Trump" signs, wear "Trump" clothing, and shout "Trump!" at times during a basketball game against a rival school.
The actions of this cadre from Canton High School apparently were too much even for some hometown fans, as they ended up emailing apologies to opponent Classical Magnet School.
According to the Hartford Courant, some thought the students' behavior was "racially motivated." Classical's student body is predominately black and Hispanic.
Classical fans who were at the game reported hearing "Trump" chants "throughout the game, and not just at the free throw line." They also saw "Trump signs and Trump-Pence campaign aparrel [sic]," and the Classical manager for the basketball team "said the chants included a sing-song 'He's our president!'"
The manager added, "I'm not sure what politics has to do with basketball. It was just annoying. It was like, OK, we get it."
Gasp! Annoying actions by rival fans at a sporting event?? Say it isn't so!!
Canton Schools Superintendent Kevin Case apologized for the students' actions, and said "a written apology will follow."
Canton High Principal Andrew DiPippo added "While students' right to free speech and forming educated opinions about politics and current events is a cornerstone of our educational system, the exact point where political opinion converges with disrespect, discrimination or hate speech must be separated."
Disrepect perhaps, but "discrimination or hate speech"? For chanting our president's name … and wearing clothes labeled with same?
School officials in Hartford, meanwhile, were aghast Wednesday. Acting Superintendent Leslie Torres-Rodriguez called the chants "unacceptable conduct." It's not the first time that suburban students have taunted Hartford student-athletes — last March, Farmington was in the spotlight when fans in that high school's student section chanted "SAT scores" during a playoff girls' basketball game against Capital Prep, another city magnet school.

As an olive branch of sorts, Farmington school leaders later attended a public forum that the Hartford school system hosted on race, racism and equity.

On Wednesday, Canton High convened the entire student body for an assembly to discuss what happened. DiPippo said the students who chanted during the game have been "spoken to directly," although Case declined to say whether the district planned to take any disciplinary action against the students. The school is still investigating the incident, Case said. …

[Classical Coach Reggie Tucker] held a team meeting before Wednesday's practice in which they talked about the Canton incident as a "teachable moment," he said — another lesson to "be relentless in your pursuit of excellence."

The team has leaned on a saying from former First Lady Michelle Obama: "When they go low, we go high."
Notwithstanding the hypocrisy of that saying, contrary to the Canton fans' actions in question, it seems invoking the Obama name is a perfectly acceptable gesture.
Superintendent Case had better tread carefully on First Amendment grounds, for he stated that "invoking Trump's name 'could be perceived as offensive, and anything that is perceived as disrespectful or hateful we don't tolerate.'"
MORE: HS students accused of racism at basketball game due to chants of 'Trump!'
MORE: California HS teacher attacked by student during 'chaotic' anti-Trump protest
MORE: Middle school student assaulted on bus for wearing 'MAGA' hat, gets suspended
Like The College Fix on Facebook / Follow us on Twitter
IMAGE: Borbala Zrinyi/Shutterstock