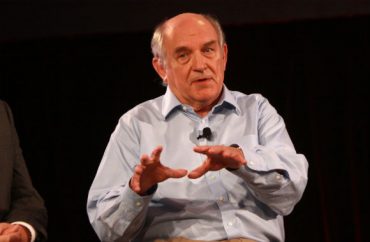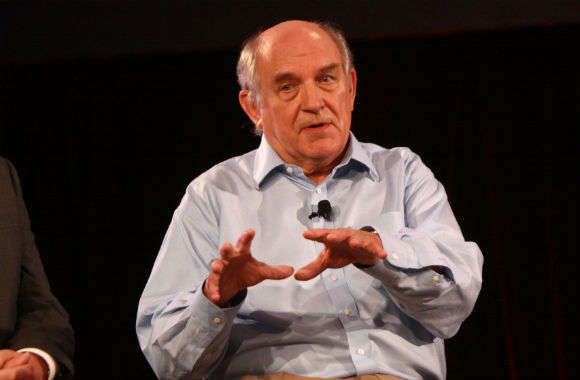 Protesters originally threatened to shut down event; Murray resumed speaking after disruption was over
Activists at the University of Michigan disrupted a talk by Charles Murray on that campus last night, needling the political scientist with heckling and stunts and accusing him of being an "irrelevant" racist.
Protesters used "chants, music, intentionally annoying cell phone sounds, an overhead projector displaying an arrow pointing to him along with the words 'white supremacist,' and hostile questions" to throw off the speaking event, according to MLive.
"I don't really care about Charles Murray – I think he's irrelevant," one protester claimed beforehand, accusing Murray of "trying to use protests and student anger to rebuild his career."
The event "featured tight, abundant security at the doors and at the entrance of the venue." According to Morgan Showen, a staff reporter for the student newspaper The Michigan Daily, police "locked down [the venue] and [were] searching all persons entering for their [student IDs]."
Showen tweeted out a photograph of a list of items attendees were prohibited to bring, among them "Hard or Frozen Fruit / Vegetables," "Balloons" and "Animals."
Police have locked down Palmer Commons and are searching all persons entering for their MCards and are prohibiting any of these items. pic.twitter.com/j9RdwaPNQN

— Morgan Showen (@MorganShowenTMD) October 11, 2017
At one point, a protester "took the state to debunk findings from [Murray's book] 'The Bell Curve'." Murray debated with the protester for a length of time, after which "a number of protesters began to disperse from the event." Murray was subsequently able to complete the speech.
At another point in the evening, protesters chanted "Charles Murray go away; sexist, racist, KKK!" according to Campus Reform. Another protester screamed at Murray: "Does it make you feel good that your work is on white supremacist websites?"
College Fix reporter Benjamin Decatur captured video of the event, including one protester telling Charles Murray: "You, sir! You are killing us!"
Protesters interrupting Dr. Murray #Michigan #CharlesMurray pic.twitter.com/fjVW3rzUGI

— Ben Decatur (@ben_decatur) October 11, 2017
Prior to Murray's speech, the successful completion of the event was uncertain. The campus group Students of Color of Rackham promised to shut down the event, claiming that Murray's work has "been linked to a rise in race-based violence and white nationalism."
The Students of Color of Rackham released a flyer prior to the protest that quoted activist Assata Shakur: "Where there is oppression, there will be resistance." Shakur was convicted of first-degree murder of a police officer in the 1970s and subsequently fled to Cuba, where she remains under political asylum.
MORE: Students of color promise to 'shut down' Charles Murray event at University of Michigan
MORE: Texas university cancels Republican's speech as Black Lives Matter shouts lawmaker down
IMAGE: Flickr
Like The College Fix on Facebook / Follow us on Twitter