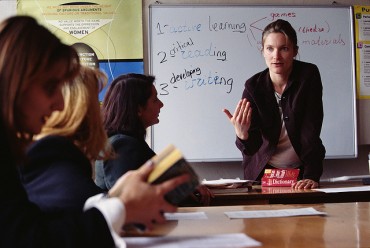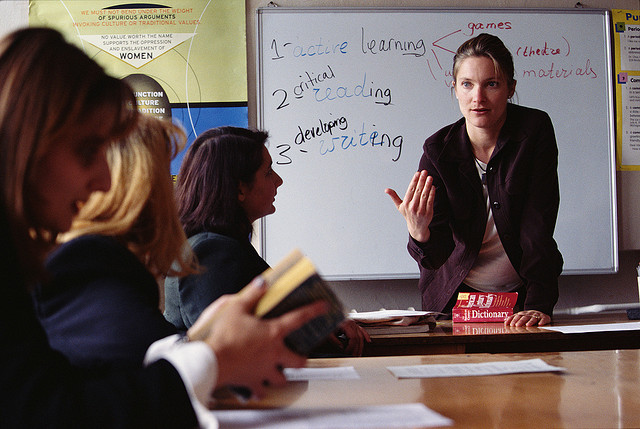 Teachers unions argue that to help solve the nation's education crisis, politicians should throw more money at the problem – but a system of charter schools in Arizona ranked among the best in the country debunks those claims.
The eight nondescript campuses are spread across the desert-laden state, and don't offer fancy classrooms or flashy computers. There's no school nurses or football fields. The system's teachers are not even required to be certified in education.
But at least two BASIS charter schools are constantly ranked by annual surveys in U.S News and World Report and The Washington Post as among the best high schools in the nation, and they do it with less money and a different curriculum than their public school counterparts.
The trick, BASIS administrators say, is to raise the academic bar for students so that they are prepared to compete on a global level. The school doesn't tolerate slackers, and hammers middle school students with knowledge that will equip them to not only excel at national standardized tests, but also the International General Certificate of Secondary Education exams.
"We educate at globally competitive standards," says Mary Riner, Director of External Relations. "Our students are educated at the same level as the best schools in the world, including schools in Finland or China."
In high school, it's Advancement Placement classes or bust. Every high school student graduates having tested in at least six AP subjects, so many students enter college with plenty of accumulated credits and a strong grasp of the higher education workload.
The school's motto is "a rigorous curriculum, student accountability, and knowledgeable and effective teachers," and that last part is tackled in a rather unique way.
Most BASIS educators did not go to school to become teachers, nor are they required to be certified in education, but rather they're experts in their given subjects, meaning they all hold at least a bachelor's degree in the topic they teach. About 60 percent of BASIS teachers also hold either a master's degree or doctorate in their subject matters as well.
What's more, teachers are held to high accountability standards, meaning if their students don't test well in the subjects they teach, their career at BASIS may be short-lived.
"The best technology in the classroom is a good teacher," says Craig Barrett, chairman of BASIS schools.
They're doing more with less as well.
In a 2010 national study of charter school funding, Arizona charter schools were receiving on average $7,597 per pupil, while traditional public schools would have received $9,576 for those students, according to the National Alliance for Public Charter Schools.
"As a result, the state's charter schools were receiving $1,979 per pupil – or 20.7 percent – less than what the traditional public schools would have received for those students," the alliance notes.
"We're very efficient," Riner said. "We have a very lean administrative body, the teachers share classrooms, there are no school nurses or big football fields. We attract really talented people in their given fields."
Yet when education reform is raised, it invariably leads to the discussion of funding.  Democrats and public teachers unions like to argue that funneling more money into schools and giving students up-to-date technology are needed for improvement.
That's not the case at BASIS, yet it's successful.
A 2008 study by the Heritage Foundation found that simply an increase in funding for education does not result in increased student performance. Despite the fact that education spending is higher than ever, America's student scores have remained stagnant.
Perhaps that is why the BASIS model is slowly catching on.
"It is working," one reporter for The Economist wrote. "The BASIS schools rank at or near the top in most surveys of American public schools."
Yet its expansion is slowed by government bureaucracy. Riner said there are only a handful of states in which BASIS can currently exist. Most state laws will not allow the charter school to hire the experts needed, insisting that the teachers need to be state certified. Many states will also not allow BASIS to force such stringent academic demands on students as well, she added.
Still, the BASIS model maintains that it is not necessarily the money that needs to keep rising, but rather the standards.
"The rest of the world has caught up with us in the past 50 years," Riner said. "We need to raise our standards, and teach our children more, earlier. They can handle it."
Fix contributor Nicole Swinford is a student at Chapman University.
IMAGE: Flickr/U.S. Govt
Click here to Like The College Fix on Facebook.