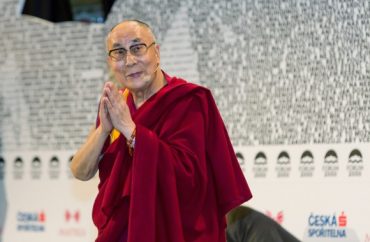 Tweet '#ChineseStudentsMatter'
The University of California San Diego recently announced that the Dalai Lama will offer its keynote commencement address, much to the disatisfaction of many of its Chinese students, who call the choice "controversial" and "disrespectful." Some go so far as to say the university's decision shows a lack of cultural respect and campus inclusiveness.
The exiled spiritual head and leader of the Tibetan people is a controversial figure in China, according to senior John Leo, an officer of the university's Chinese Student Scholars Association.
"Inviting such a controversial figure…is very disrespectful," Leo told ABC 10.
Though the history between Tibet and China is complicated, Chinese students such as Lee allege that the Dalai Lama's failed negotiation with China for Tibetan independence actually sparked an uprising in 2008.
UCSD students have also recently popularized the hashtag #ChineseStudentsMatter in an effort to bring attention to this matter.
Chinese student Ruixuan Wang published an op-ed in the UCSD Guardian explaining that "the Dalai Lama spent his whole life trying to separate Tibet from the mainland of China, regardless of how much privilege and freedom the government offered the people of Tibet."
"His conflict with our government caused property loss, deaths of innocent people and panic among the general public — even though he claims that he advocates for a nonviolent revolution."
Yet, UCSD Chancellor Pradeep Khosla called the Dalai Lama "a man of peace" who "promotes global responsibility and service to humanity" in a statement.
"These are the ideals we aim to convey and instill in our students and graduates at UC San Diego," Khosla said.
The Dalai Lama was awarded the Nobel Peace Prize in 1989 for his non-violent struggle for the liberation of Tibet, and has been recognized for his global environmental concern.
Wang noted in his piece that these accomplishments are admirable, but wrote that "the main reason why many Chinese students are upset is that our university shows little consideration about cultural respect."
The UCSD Shanghai Alumni Group interestingly used the common campus rhetoric of diversity and inclusion to voice its protest.
"When addressing such a diverse community, there is a greater responsibility to spread a message that brings people together, rather than splits them apart," they wrote.
Yet some counter that invoking diversity, given China's general aversion to this principle, is inappropriate.
Tibetan native and graduate of UCSD Dr. Tsering Topgyal called it "unsurprising" that most Chinese students agree with their communist government's stance on Tibet.
"If the Chinese students wish to exploit diversity, they would come across as more convincing if they were more committed and supportive of this principle back home," he said. "If they are so committed to diversity, it behooves them to be more accepting of the Dalai Lama's talk, especially since I am sure that many of the non-Chinese student community would wish to hear the Dalai Lama."
In response to the Chinese students' disapproval, UCSD said in a statement that "the University of California San Diego has always served as a forum for discussion and interaction on important public policy issues and respects the rights of individuals to agree or disagree as we consider issues of our complex world. Our 2017 speaker, His Holiness the 14th Dalai Lama, carries a message that promotes global responsibility and service to humanity that is of great interest to the UC San Diego community and to our students as they enter their professional lives. As a public university dedicated to the civil exchange of views, the university believes commencement is one of many events that provide and appropriate opportunity to present to graduates and their families a message of reflection and compassion."
Meanwhile, the Chinese Students and Scholars Association has issued a statement that "if the university insists on acting unilaterally and inviting the Dalai Lama to give a speech at the graduation ceremony, our association vows to take further measures to firmly resist the university's unreasonable behavior. Specific details of these measures will be outlined in our future statements."
No specific request for disinvitation has been issued at this time, however.
MORE: NYU disinvites controversial Nobel Prize-winning scientist from giving guest lecture
Like The College Fix on Facebook / Follow us on Twitter
IMAGE: Shutterstock
Like The College Fix on Facebook / Follow us on Twitter