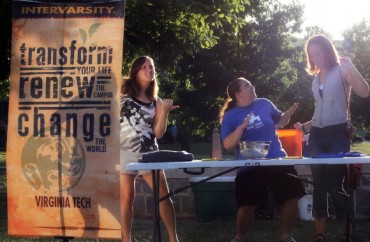 An attack on 'all comers' mandates
Tucked into a new Kentucky law that protects religious expression in public schools are provisions that protect college students' freedom of speech and association.
The so-called Charlie Brown law was prompted by a public school excising a Bible verse from its production of A Charlie Brown Christmas.
It has drawn the most attention for preventing school officials from "punishing students for wearing religious messages on their clothes and expressing religious or political beliefs in homework, artwork and speeches," the Associated Press reports.
But it's also a state-level response to the Supreme Court's 2010 Martinez ruling that allowed public colleges to force religious student clubs to accept leaders who do not share their religious beliefs.
MORE: Shunned from campuses, Christian clubs struggle
InterVarsity Christian Fellowship lost its recognition at California State University campuses during the 2014-15 school year because it refused to change its written bylaws that limit leadership roles to Christians. It later changed its bylaws so it could return.
The Foundation for Individual Rights in Education praises this Kentucky prohibition on "all comers" policies in the new law, as well as a prohibition on many forms of campus speech restriction.
The new law blocks colleges from "discriminating against a religious or political student group on the basis of its 'internal affairs,' including how it selects leaders and members," says FIRE:
While some have characterized this part of SB 17 as anti-LGBTQ, that description ignores that the language, as written, also prevents ideological opponents of LGBTQ-friendly groups from undermining their efforts by insisting on membership. …

"All comers" policies burden the freedom of conscience and association of all students, regardless of ideology, in the name of ensuring access to groups that cease to exist in light of the policies. These policies prioritize diversity within organizations over diversity between organizations. That places too big a burden on liberty for too little return.
MORE: Christian club bends the knee to Cal State's anti-Christian mandate
The new regulations on speech restrictions mirror FIRE's own model legislation, the Campus Free Expression Act, it says:
Kentucky law now requires that speech restrictions be narrowly tailored to serve a compelling government interest, content-neutral, and limited in a way to provide ample alternative means of communication. …

Kentucky is now the fourth state to enact a statutory ban on free speech zones, joining Missouri, Virginia, and Arizona.
Read the AP report and FIRE analysis.
MORE: School board threatens nurse for poster that says Christmas is about Christ
Like The College Fix on Facebook / Follow us on Twitter
IMAGE: Jeff Stanford/Flickr