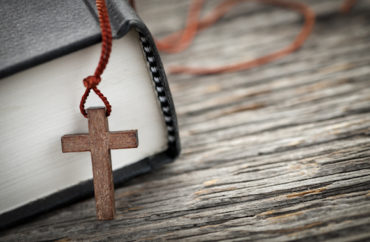 'Broad exceptions' for Greeks and sports clubs, though
The student club Business Leaders in Christ won a short-lived victory against the University of Iowa when a judge ordered the taxpayer-funded institution to recognize the Christian group on the same terms as others that require leaders to adhere to the club's beliefs, such as a Muslim student group.
The university responded by derecognizing all groups that don't open leadership posts to everyone, regardless of whether any potential leader supports the mission of the group.
One of the clubs caught in the crossfire between the university and Business Leaders in Christ was another Christian student ministry, InterVarsity.
With the help of the Becket law firm, which is also representing BLC, InterVarsity is planning to file a lawsuit against the university later today, a spokesperson for Becket told The College Fix Monday afternoon.
The suit alleges that the university is specifically targeting religious groups while making "broad exceptions" for political groups including Republican and Democratic student clubs, Greek-letter organizations and sports clubs, which can still choose to limit membership by political party and sex with no consequences from the university:
The University's purge of dissenters causes uniquely existential harm to religious groups. A group's leaders are the embodiment of its identity and mission. While the University allows political and other ideological groups to select leaders based on shared identity and mission, the University's position makes it impossible for religious groups to do so. A religious group denied religious leadership will ultimately cease to be religious.
The suit says InterVarsity has not been subject to any known complaint about its leadership requirements – like other groups for Muslims and Mormons, it was deregistered solely because it has a religious requirement for leadership.
It names President Bruce Harreld, Vice President for Student Life Melissa Shivers, Associate Dean of Student Organizations William Nelson, Coordinator for Student Organization Development Andrew Kutcher, and Student Misconduct and Title IX Investigator Thomas Baker as defendants in addition to the university.
Nothing has changed about InterVarsity's faith requirement for leaders in its 25 years on campus, but it was informed June 1 that it had two weeks to change their practices to allow non-Christians or lose recognition:
When InterVarsity's student leaders responded emphasizing the importance of having Christian leadership, the University stated that it "recognize[d] the wish to have leadership requirements based on Christian beliefs," but that "[h]aving a restriction on leadership related to religious beliefs" is impermissible. The University further stated that InterVarsity student leaders could not even be "strongly encouraged" to agree with InterVarsity's faith.
For some reason the university allowed two sibling InterVarsity organizations on campus to remain recognized, despite using the same religion-exclusive language as its graduate chapter, which was derecognized.
University official extols non-religious groups that discriminate
The suit emphasizes that the graduate chapter "has members of different religious backgrounds, or no religious background, who attend its Bible studies and other events, and most of its "regular participants and leaders are women."
It explains that InterVarsity leaders are not figureheads in the least: They affirm a narrow faith statement and agree to a "significant spiritual commitment," leading religious meetings, prayer and Bible studies, teaching and ministering to their peers, planning ministry events on campus and determining outreach and service activities.
Because of derecognition, it is being deprived of access to student orientation activities, organization fairs, a page on the university's OrgSync site that lets it connect with students and advertise events, free campus meeting space and funding.
The University of Iowa is ignoring its own policies by claiming that religious student groups violate its human rights policy by requiring leaders to share their faith, according to the suit.
Its "Registration of Student Organizations" policy explicitly lets recognized groups "exercise free choice of members on the basis of their merits as individuals without restriction in accordance with the University Policy on Human Rights. It also explicitly lets these groups condition membership – not just leadership – on subscribing to "the goals and beliefs" of the organization:
Thus, preventing Plaintiffs from creating space for students of like-minded religious beliefs violates, not upholds, the University's published policies.
MORE: U. Iowa deregisters dozens of student groups to spite Christian group
The Statement of Religious Diversity also binds the university to neither promote religion nor discriminate against students based on their "religious viewpoints":
The University has previously admitted that, under these policies, a student religious group is entitled to require a statement of faith as a pre-condition for leading the group and that asking prospective leaders to sign a statement of faith would not violate the Human Rights Policy.
Not only does the university explicitly authorize 42 sex-restrictive sports clubs to operate with recognition, but Nelson, the associate dean of student organizations, encouraged students to consider sex-restrictive fraternities and sororities at the university in a guide for families.
Nelson said "many believe" that these groups that discriminate on the basis of sex are "the best way to spend your collegiate years."
Lies and theft
InterVarsity specifically was also subject to falsehoods by the university. When its OrgSync page was disabled and InterVarsity tried to log in to the administrative page, the page said the Center for Student Involvement & Leadership disabled the page because InterVarsity "requested to be de-registered."
The content of this supposed request? "[L]ack of interest from students." The university also stole InterVarsity's non-university funding by freezing its access to the funds in its student financial account, the suit claims.
The university is violating the First Amendment's free exercise and establishment clauses, ignoring the "ministerial exception" and "internal autonomy" prongs and showing "religious animus" and targeting InterVarsity's beliefs without making the same restrictions "generally applicable" to other groups that limit leadership.
The suit also claims that the university is requiring "compelled speech" of InterVarsity, by forcing it to accept leaders whose views would "communicate" to both members and the community that InterVarsity's views "are different than what they actually espouse."
The university is similarly violating the Constitution's equal protection clause, Iowa Human Rights Act and provisions of the state constitution, Becket claims.
It wants an injunction against the university to prevent it from denying recognition to InterVarsity based on its "religious leadership selection policies," and an award of "damages and nominal damages" as well as reasonable attorney's fees.
"If public universities really want to foster an intellectually diverse environment, this isn't how to do it," Becket senior counsel Daniel Blomberg said in a press release. "Banning religious groups from having religious leaders just flattens diversity and impoverishes the campus."
Read the lawsuit and release.
MORE: Judge forces U. Iowa to recognize Christians on same terms as Muslims
Like The College Fix on Facebook / Follow us on Twitter