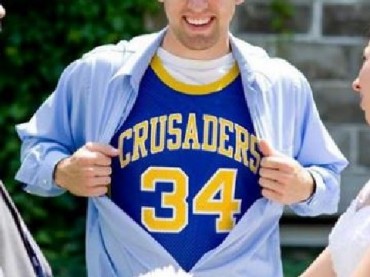 A Christian university in Idaho has dropped its "Crusaders" mascot, claiming "there has been a growing diversity of opinion regarding the mascot and nickname" in recent years that led to the change.
On Monday, Northwest Nazarene University President Joel Pearsall announced the institution would be adopting "Nighthawks" as its new nickname. Pearsall's announcement concluded a lengthy process in which university stakeholders moved to drop the crusaders moniker, according to an article published on the school's website.
From the article:
Over the past several years, NNU's Board of Trustees has discussed and considered the possibility of changing the university's institutional nickname and mascot. In 2016, the board appointed a task force composed of NNU trustees, alumni (one of whom serves as a missionary), students, representatives of NNU athletics, and faculty members. The task force met several times and delivered a report to the board during spring semester 2017. After further consideration at the fall 2017 meeting, the board voted unanimously to change the university's nickname and mascot from "Crusaders" to "Nighthawks".
The university has slowly phased out its association with the Crusaders mascot. In 2006, it quit using the image of a crusader and started to "deemphasize the term within the athletic department and around campus."
In a Frequently Asked Questions webpage created to explain the name change, the university insists the decision is about being politically correct. Instead it claims "this change is an effort to assure that our nickname and mascot do not in any way impede the university's ability to fulfill its mission and be in ministry to others in an increasingly-interconnected global community."
However, Northwest Nazarene's Facebook post announcing the mascot change was lit up with comments lambasting the university for bowing to politically correctness. A university spokesman did not respond to The College Fix's request for comment regarding the criticism.
Northwest Nazarene joins several other universities that have stripped themselves of the Crusaders moniker in recent years. Earlier this year, Alvernia University dropped the nickname.
Read the university's article.
MORE: Catholic university drops Crusaders mascot: 'troublesome, offensive'
MORE: College Nixes 'Crusaders' Mascot, Says It's Too Controversial
IMAGE: Facebook Screenshot
Like The College Fix on Facebook / Follow us on Twitter