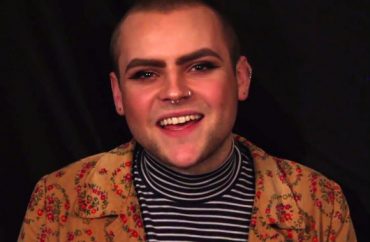 Unacceptable that new diversity official holds to 'biblical standards'
Seattle Pacific University says it supports the right of its LGBTQ students to advocate against anti-gay actions and name-calling.
Its LGBTQ students want the evangelical university to go a step further, and affirm non-heterosexual practices and various gender identities.
They are particularly unhappy that the university's first vice president of diversity, equity and inclusion (VPDEI), hired last month, supports "biblical standards" for sexuality and will not include LGBTQ issues in her portfolio to start.
Student activists flooded the campus with unauthorized posters on the "Day of Silence" Friday, a national event that calls attention to the "silencing effects of anti-LGBTQ name-calling, bullying and harassment in schools."
The posters showed cartoon people with their mouths taped shut. They claim that SPU's nondiscrimination policy "does not protect all sexual orientations or gender identities," and its hiring policy "discriminates against the LGBTQ community."
They also take aim at the left-leaning Christian university's "Statement on Human Sexuality," calling it "unethical, unscientific, unChrist-like."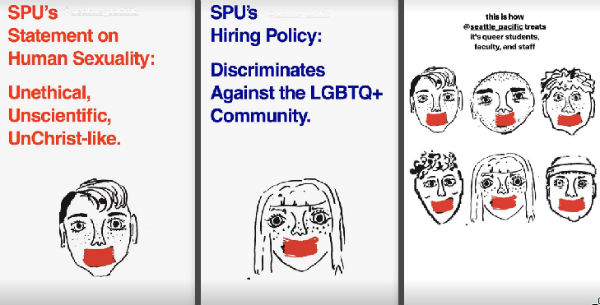 The protest was organized by SPU Haven, a student club that has repeatedly fought with the administration over the years. It acts as "safe space at SPU for discussion of issues facing the LGBTQ community."
An SPU student who witnessed the activists putting up posters told The College Fix they started before 8 a.m. and the posters were still up at 12:30 p.m. when the student left campus. By 3 p.m. when the student returned, "most of them were down."
MORE: College disinvites professor who won't use gender-neutral pronouns
A university spokesperson told The Fix that it "supported the student-led Day of Silence event on our campus":
The University sees this event as a way to give a unique voice to students who may feel bullied or not heard. We care deeply about all our students and work hard to make sure their voices are heard and that we understand their concerns.
But some student activists "did not follow established guidelines for posting flyers around campus, so the posters were removed," the spokesperson added. "These guidelines are applied uniformly to all student posters, whatever the topic."
@SPUHaven posters in response to discrimination against #LGBTQ community @SeattlePacific @thefalcononline pic.twitter.com/8DvjDWz2ja

— Peter W. Choi 최원종 (@peterwchoi_) April 21, 2017
One student activist was angry the school took down the posters. He tweeted the action proves that "SPU only care$ about image & income, not $tudent$."
Haven had been granted a permit for setting up a table in the center of campus. It did not reply to queries from The Fix regarding the protests and what its specific goals were, other than raising awareness for the Day of Silence.
SPU cowards are taking down posters calling them out for their discriminatory policies. SPU only care$ about image & income, not $tudent$.

— níðing (@thegaylinguist) April 21, 2017
#NationalDayofSilence #SPU125 pic.twitter.com/7bvd9N7Fyr

— SPU Haven (@SPUHaven) April 21, 2017
'White boy' lectures woman of color on 'justice'
The guerrilla postering on the Day of Silence capped two months of protest from LGBTQ students that their community wasn't being served.
"Queer student leaders on campus have been told that the office of the VPDEI will focus primarily on race issues and only later tackle those of the queer community," student Caleb Gustin, perhaps the most vocal LGBTQ activist on campus, wrote in The Falcon in February.
"We cannot wait any longer," he said, asking university leaders to "evaluate the possibility of full inclusion of queer faculty and staff," meaning those who are sexually active outside heterosexual marriage.
MORE: Virginia students can be punished for offending transgender peers
When the university announced last month the VPDEI would be Azusa Pacific University's Sandra Richards Mayo – whose background is "social justice, diversity, and equity" – LGBTQ students took to Twitter to grouse.
Jess Sloan, the student government's vice president of intercultural affairs, sat in on a Mayo interview and said the candidate was "non-affirming" with regard to LGBTQ+ students.
Mayo had told student government executives she "adhered to biblical standards," according to Sloan.
@GustinCaleb @SeattlePacific this candidate was also non-affirming when asked about support for LGBTQ+ students in an interview

— Jess (@jsloanie) March 16, 2017
Gustin said he met Mayo and cried in front of her "as the token gay in the room."
"I explained how justice must be intersectional to a woman of color," he tweeted. "A white boy had to express that justice that waits… IS JUSTICE DENIED."
@SeattlePacific I explained how justice must be intersectional to a woman of color. A white boy had to express that justice that waits…

— CalebGustin (@GustinCaleb) March 17, 2017
Gustin has taken to dressing like a nun with a black eye and wearing a sign that reads "pray the gay away" in the past week.
On this holy day, a week after the Lord rose again, may we remember @SeattlePacific does not hire queer people, effectively asking us to… pic.twitter.com/GxK0K23XBY

— CalebGustin (@GustinCaleb) April 23, 2017
My uni has some messed up policies/history/current practices and beliefs regarding queerness. It's inescapable @SeattlePacific @SPUPres pic.twitter.com/YG9han8a8F

— CalebGustin (@GustinCaleb) April 21, 2017
Mayo starts in her new role July 1.
'We're literally being erased from campus'
LGBTQ students made clear they "felt a sense of silent oppression due to SPU's neutral stance on human sexuality and gender identity," according to a recent article in The Falcon.
The 11-year-old "sexuality" statement acknowledges that issues regarding sexuality and gender are sensitive and must be treated with "personal and spiritual sensitivity and with scholarly care."
MORE: Public university hosts talk on animal-based sex fetishes
It promises that the institution, which is affiliated with the Free Methodist Church, will evaluate teachings and pronouncements "regarding sexuality in the light of the historic understanding of the Christian Church."
LGBTQ students are particularly bothered that the statement only refers to "homosexual or heterosexual" orientations and that it seems to tolerate non-heterosexuals but not embrace their identity.
Gay student Drew Cortez told The Falcon the statement is "a quiet form of oppression," while Haven President Brian Pfau, also gay, said it doesn't recognize "queer love" is equal to heterosexual love.
Cortez also criticized the nondiscrimination policy for not including sexual orientation, which proves "we're literally being erased from campus."
The Falcon article makes clear the tightrope that SPU is facing as it tries to appease LGBTQ students. It features first-year student Andy Spalletta, who considers "nonbinary" a term favored by "mainstream society":
Spalletta identifies as demi-gray, genderqueer panromantic. For Spalletta, this means they might be sexually attracted to someone as gray-sexual until they have a demi-sexual partnership with that person, and that they are panromantic for all genders.
The activism hasn't changed SPU's mind about the sexuality statement. The spokesperson told The Fix: "While we recognize a diversity of opinions within our community on the topic of sexuality, we affirm our statement on human sexuality."
Haven has a troubled history with the university. It was only granted official club status in 2011, after a petition was started to recognize a previous iteration known as "The Haven." It drew nearly 3,000 signatures.
The petition was sparked by Jeff Jordan, then the associate vice president of academic affairs and now vice president of student life, telling club leaders they could no longer reserve campus rooms for group meetings and he wouldn't discuss official club status for them, The Falcon reported.
MORE: Princeton Seminary revokes award from preacher because he's conservative
Like The College Fix on Facebook / Follow us on Twitter
IMAGE: The Falcon/YouTube