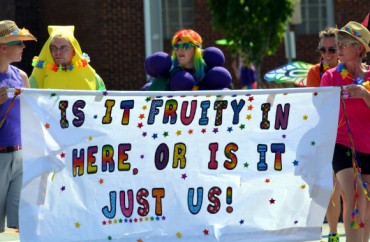 Private Christian university denies full recognition of group but still promises to support its 'worthy goals'
Samford University has refused $3 million in annual funding from the Alabama Baptist State Convention as a result of the Christian institution's decision to support a LGBTQ student group rather than accept the money.
The group the university sought to honor with that decision is Samford Together, a student group that describes itself as dedicated to studying "an array of ideas and opinions" related to "sexual orientation and gender identity."
The Alabama Baptist State Convention, which has donated to the small school nestled in a Birmingham, Ala., suburb, for many years, made rescinding Samford Together's provisional group status and eliminating its chances for permanent status as conditions for the university receiving $3 million in annual funding.
In a July 7 press release, Samford President Andrew Westmoreland decided to turn down the funding, though he still refused to give permanent recognition to the LGBTQ-focused group. Instead, he vowed to help implement Samford Together's "worthy goals."
Samford Together continues to have provisional status at the university.
It is unclear why Samford Together was denied official recognition by Samford. It is further unclear how exactly the administration will work to implement the group's "worthy goals."
When asked repeatedly by The College Fix how President Westmoreland will help fulfill Samford Together's goals, Samford spokesman Philip Poole refused to answer. Poole also refused to clarify the specifics of Samford Together's "worthy goals" as understood by Westmoreland.
In the press release, Westmoreland claimed that Samford Togethers "intent and purposes" were "widely misunderstood," but did not elaborate further.
Samford Together does not have a Facebook or Twitter account and no members could be reached for comment.
The only information that can be found on the LGBTQ-oriented group is on Samford's student life website.
"Samford Together will provide a forum for SU students who want to discuss topics relating to sexual orientation and gender identity. In an open-minded and accepting environment, students will find community and opportunities to study an array of ideas and opinions on these subjects," the description reads.
Concerns about the group were publicly expressed by Alabama Baptist State Convention President John Thweatt and State Board of Missions Executive Director Rick Lance.
When reached for comment by The College Fix via e-mail, convention spokesman Keith Hinson directed The Fix to a joint public statement made by Thweatt and Lance, which asserts that the group "identifies with values contrary to biblical teachings on sexuality."
Many religious institutions, including Samford, continue to grapple with how to support LGBTQ members in their communities. At the University of Notre Dame, it took a "decades long push" before a LGBTQ student group was officially recognized.
Other universities, such as Anderson University in South Carolina, have opted for Title IX exemptions in order to stand up for their religious beliefs.
Samford, which was founded by Alabama Baptists in 1841, has pledged to continue its positive relationship with the Alabama Baptist State Convention.
"The relationship between Alabama Baptists and Samford remains crucial to the mission of Samford and the ongoing work of Baptists in Alabama and Christians throughout the world," Westmoreland said.
MORE: Bills aim to force Calif. Christian colleges to embrace transgenders or lose funding, critics warn
MORE: Most Christian colleges on LGBT 'shame list' have no documented discrimination complaints
Like The College Fix on Facebook / Follow us on Twitter
IMAGE: Flickr