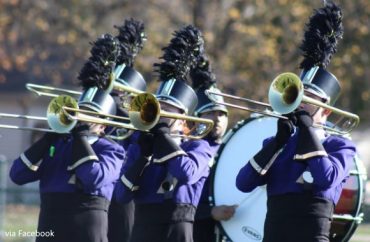 Headlines abounded recently proclaiming universities' marching band members are upset and angered over their participation in the upcoming presidential inaugural parade.
Except there's another side to the story.
Case in point: Olivet Nazarene University's Tiger Marching Band.
"Whether it was Hillary or Trump who won, I would be proud of my school for participating in this," a band student posted on Facebook recently.
That's the sentiment of most of the band members at the private Christian university near Chicago, student Jeff Gerstenberger, an Olivet student, told The College Fix.
"Most students are very supportive of us going as a university," he said. "This future performance is not a political stance or statement from Olivet."
A Change.org petition started by an alumnus calling for the marching band to be withdrawn from the parade, claiming Trump's divisive rhetoric does not represent Olivet students, was met with a student-led counter-petition to support the university's involvement.
"The inauguration is a celebration of everything that is good about America," Olivet student Mattheus Mitchell stated in the petition.
University president John Bowling, in an email to Olivet students, said the event transcends political divisions.
"The inauguration of a new president is not a political event, but a civic ceremony honoring the office of the president," he stated. "This selection reflects our band's long hours of preparation and hard work and provides a wonderful, rare opportunity for our students to see firsthand the peaceful transition of government."
The university posted a congratulations announcement for the marching band, quoting the band's drumline section leader Jacob Rechsteiner as proclaiming: "This is a once-in-a-lifetime event."
His bandmate and Band Council president, junior Tori Kober, stated she is also thrilled.
"People who have never heard of Olivet will see our band marching on a massive stage," she said. "Everything our band does is #fortheLord, and this is an amazing opportunity for us to bring the love of God to our nation's capital."
Matthew Stratton, university director of athletic bands, told the Chicago Tribune that roughly 140 members will perform in the parade, and that his musicians comprise one of the country's largest Christian marching bands.
"God has been taking us places and so we're going and performing," he told the Tribune.
Olivet Nazarene University is not alone in its excitement to participate despite pressure not to.
In the face of massive backlash calling for it to back out, Talladega College will still perform in the parade, and Trump supporters and others donated hundreds of thousands of dollars to support the band's decision and help pay for its trip.
The historially black college got major flak for its decision to take part, and its president and his family even faced death threats for allowing the Talladega College Marching Tornado Band to march in the parade, AL.com reports.
"It has not been easy. It's amazing to me that people could have such hate. But let the hate come. I will still support my students," Billy Hawkins, the school's president, told AL.com. "In the end, it was my decision. I wanted to make sure it was the right decision. This is the biggest event in America right now, period."
MORE: Teacher to take 50 students to post-inauguration Trump protest
MORE: Students, professors work to bolster anti-Trump Women's D.C. March
Like The College Fix on Facebook / Follow us on Twitter