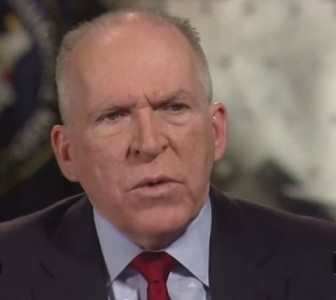 Some professors call honoring him a 'stain' on the Jesuit university
A cohort of faculty at Fordham University dedicated to opposing torture have vehemently denounced CIA Director John Brennan for defending enhanced interrogation techniques used in the wake of Sept. 11 and have pledged to continue their criticisms of Brennan in the coming school year.
Brennan, an alumnus of Fordham who in 1977 earned a bachelor's degree in political science at the private Jesuit university in New York, was also given an honorary degree by the college in 2012 when he was commencement speaker there.
At the time, his address received some protest, with one graduate launching a Change.org petition calling for Brennan's removal as speaker, and roughly 10 to 15 audience members turning their backs to Brennan during his talk, according to the Fordham Ram campus newspaper.
Brennan continues to draw criticism at Fordham. The focus is not on Brennan's decision to spy on U.S. Congress members, nor his controversial drone program, nor his stance that ISIS members are not "Islamic." The professors' ire focuses solely on tactics used in an attempt to extract intelligence in the war on terror, and they call Brennan's honorary degree a "stain" on the university.
In December 2014, the U.S. Senate Intelligence Committee issued a scathing 6,000 page report on post-Sept. 11 counter-terrorism tactics such as waterboarding, death threats and sleep deprivation.
In wake of the report, seven faculty members at the Jesuit university organized Fordham Against Torture (FAT), a group dedicated to revoking Brennan's honorary degree. Brennan was not named in the Senate's report, and did not take over as director the CIA until 2013. But "when the torture program started in late 2001, Brennan was deputy executive director of the CIA. And for years after he left the CIA, Brennan defended it," BuzzFeed News reports.
Following the report's release, Brennan said the report was an "incomplete and selective picture of what occurred," but also said the agency made "mistakes."
But FAT has labeled Brennan's honorary degree an "egregious error," asserting "he has participated in, and continues to publicly defend, the use of torture." The group drafted a two-fold petition, namely seeking to remove Brennan's degree and secondly to initiate university dialogue on torture and human rights.
The petition was kept private until FAT met with Fordham President Rev. Joseph McShane S.J. and other administrators in late January. In that meeting, according to FAT's website, McShane asked the group not to go forward with the petition but advocated for dialogue. McShane suggested keeping the petition private and inviting Brennan to the Bronx campus to speak on the issue.
But the faculty members didn't accept that plan, and went public with its petition following the meeting despite the administration's pleas.
"At the meeting, (Provost) Dr. Freedman suggested that the petition would obstruct academic dialog.  We respectfully disagree," the group wrote to McShane. "[W]e plan to move forward with our petition and to begin organizing a series of events on torture, human rights, and restorative justice for this spring and the 2015-16 academic year."
The petition received more than 700 signatures from faculty, students and Fordham alumni. According to FAT, 113 of Fordham's 700 faculty members signed the petition, more than 15 percent total. The petition received signatures from 446 of Fordham's 15,000 students.
Members of FAT delivered the petition to McShane in April. McShane then brought the petition before the university's board of trustees, who are responsible for awarding honorary degrees.
Bob Howe, special advisor to McShane, told the National Catholic Reporter that the board discussed the petition in a "frank and wide-ranging conversation about the direction that Fordham should take in this matter," but unanimously affirmed Brennan's degree.
In a letter to the organizing members of FAT, McShane condemned torture but said the university should not punish Brennan for policies he didn't direct.
"The President, his predecessor, and Congress are legally responsible for the creation of the policies you — indeed all of us — find so shocking," McShane wrote. "To revoke Mr. Brennan's honorary degree because it is within our power to do so – as opposed to placing the responsibility on the President and Congress – is neither wise nor honorable."
McShane said his, and the board's support, shouldn't be mistaken for backing the CIA.
"No Jesuit institution – no Jesuit – is inclined to overlook the darker side of the Central Intelligence Agency," he wrote.
FAT didn't accept McShane's explanation.
"Brennan's honorary degree will now permanently stain Fordham's honor and that of the Society of Jesus," FAT wrote in an email to its supporters, according to the National Catholic Reporter.
While the main crux of its petition failed, FAT is set on enacting the second portion that calls for a series of dialogue on torture and justice.
In an email with The College Fix, FAT said it is still committed to launching "a series of events addressing the issue of torture as an instrument of policy." The group is not opposed to Brennan participating in an event, but has stipulations.
"A future event with Mr. Brennan depends on whether the discussion ground rules provide an opportunity to conduct a meaningful dialogue that clarifies and questions the rationale our government has used for torture," FAT said. "An example of this, an important one but only one of many, is why our government insists on using the meaningless term 'intensive interrogation' for behaviors that clearly mean torture."
College Fix reporter Nathan Rubbelke is a student at Saint Louis University.
Like The College Fix on Facebook / Follow us on Twitter
IMAGE: YouTube screenshot