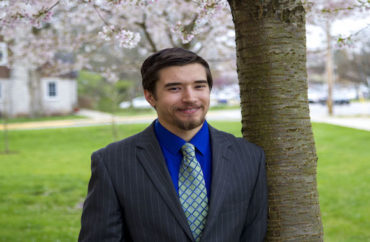 Student senator cites Bible prohibition on homosexual behavior: 'I believe I am representing the best interests of all students'
A Christian student senator is defending his decision to vote against a student government proposal to fund a LGBTQ graduation ceremony, citing Biblical scripture and stating that he is "representing the best interests of all students."
On Mar. 27 the Western Kentucky University student senate voted in favor of providing $250 worth of funds to the Lavender Recognition Ceremony, the student newspaper College Heights Herald reported.
Lavender graduations, which offer specialized ceremonies for gay, lesbian, bisexual and transgender students, have become popular on campuses in recent years. Western Kentucky University held its first lavender graduation in 2015, according to the university's website.
The vote, which passed 28-5, will help lavender participants purchase stoles for the ceremony.
Student senator Dallas McKinney was among the few who voted against the proposal. He cited "a certain interpretation of the King James Bible," according to The Herald. 
Via email, McKinney dismissed accusations that he is "homophobic."
"I am not scared of the LGTBQ community but rather scared for the LGTBQ community to meet God after living a lifestyle of sin," he told The College Fix.
"I believe I am representing the best interests of all students by helping them avoid the judgement of God for sin upon meeting Him," he added.
McKinney cited Romans 1:24-27, which condemns "vile affections" and "men with men working that which is unseemly," as one passage that informs his beliefs about homosexuality.
He also noted "some consequences of living that lifestyle that I have anecdotally observed such as increased risk of depression, suicide and HIV, along with never getting the chance to experience the joy of having biological children."
The Herald reported that Queer Student Union President Jeremy McFarland, who had spoken earlier in the evening, stood and walked out of the chambers while McKinney spoke. McFarland did not respond to a request for comment from The Fix on Thursday.
When asked by The Fix about McFarland's walkout, McKinney explained that he does not know McFarland particularly well.
"I will say he seems like nice guy from the SGA meetings he has spoken at as a student speaker, and I hate that me not agreeing with him has hurt his feelings," McKinney said. "However, my beliefs are based on the facts in the Bible, and I guess we will have to try to settle for respecting each other even if we cannot agree."
According to a subsequent report in The Herald, at the next meeting of the student government a number of students spoke out against McKinney's speech from the week prior. Without citing McKinney by name, student Brigid Stakelum characterized remarks from his speech as "disturbing," "malicious," "dehumanizing," and "just plain hateful."
"When a person says that another group of people deserves to die, that is not simply a harmless opinion because that is advocating for violence against a group of people based on something they can't control," Stakelum said.
McKinney, who did not attend the meeting due to academic obligations, said that he is "hateful against sin but not the sinner."
"I also agree that all sinners deserve to die, including homosexuals. As a sinner I deserved to die, too," he told The College Fix via email, citing Romans as evidence that "no one has to die since we can accept Jesus as our Saviour and be free from our sin."
"I do not advocate for violence against anyone: as I said in my speech on March 27th, it is the Bible that [is] judging them and not me," he added.
Asked if the school celebrates any other unique types of graduation ceremonies, university spokeswoman Tiffany Robinson directed The College Fix to the university's commencement page.
There, a listing of special graduation exercises includes the Lavender Recognition Ceremony and the Intercultural Student Engagement Center's ceremony for "students who identify as Black, Hispanic/Latino, Asian, Native American, or Multiracial," among other school- and department-specific ceremonies.
MORE: Christian group put on probation after asking bisexual Bible leader to resign
MORE: Campus sex week: Abortion is healthy, Bible supports homosexual sex, orgies are fun
Like The College Fix on Facebook / Follow us on Twitter