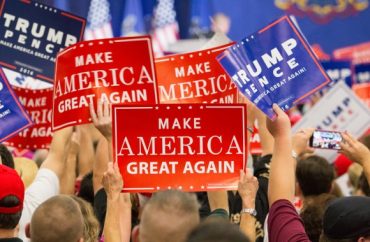 A Georgia teacher who was caught on video comparing students' "Make America Great Again" shirts to swastikas, and had demanded they turn the shirts inside out, has tendered her resignation citing death threats.
Near the beginning of this school year, River Ridge High School's Lyn Orletsky told the "offending" students "Just like you cannot wear a swastika to school, you cannot wear 'Make America Great Again' like that." She proceeded to boot them from class, saying "Please go, at least for this class. I don't care what you do in other classes."
Orletsky claimed she wasn't upset with President Trump, just that his trademark campaign phrase had been co-opted by Neo Nazis (especially in light of Charlottesville).
INSANE!!

High school teacher calls Trump shirt a "swastika" and makes him take it off in class!

How is this ok!?!

RT!!! pic.twitter.com/i9281Hegxg

— Charlie Kirk (@charliekirk11) September 2, 2017
After being placed on administrative leave following the incident, Orletsky defended her actions, citing the sizeable percentage of minorities in her calculus class, and their right to a safe environment. In the interview clip, Orletsky offers no contrition for her (very mistaken) actions; indeed, she merely laments that her students were suffering from not having her there to teach them.
In a statement regarding her resignation this week, Orletsky did say that "in hindsight I would have handled the situation differently." However, she added that "the outcry over this incident has been disproportionate to the event itself."
"After attacks on my character and threats on my life, I have made the decision to resign from my teaching position at River Ridge High School," she said.
Here's a sample of what Orletsky had to deal with via email:
Lyn Orletsky, a math teacher at River Ridge High School in Woodstock, will DIE after what she has done. We and I think I can speak for most of America. We are so sick and tired of the facist public schools systems in America today. You and your liberal agenda's have finally pushed us into a corner. Do you know what happens when a rabid dog feels trapped in a corner, he only has one option and that is to defend himself at all cost so it never happens again Do you read me loud and clear?????? We are coming for YOU!!!!!! We are coming for YOU!!!!!! We are coming for YOU!!!!!!
It goes without saying that reactions like this are way out of bounds. But given that actions like Orletsky's haven't been that uncommon in the wake of the 2016 election (indeed, hers was quite tame in comparison to others), and her lack of regret until recently, it's pretty easy to understand why people were upset.
Aside from the fact that Donald Trump was the candidate of one of the two major political parties, the "slogan appropriation" Orletsky cited is lame. Would she have acted similarly if a student wore a "Black Lives Matter" shirt? A shirt with "Allahu Akbar"? After all, people have acted violently in the name of those phrases.
MORE: Teacher defends using lesson which calls Donald Trump 'racist,' 'sexist'
MORE: 'Trump must hang' professor is relieved of fall teaching duties
IMAGE: Shutterstock
Like The College Fix on Facebook / Follow us on Twitter