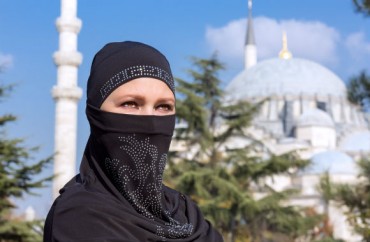 Evangelical Wheaton College in Illinois is in upheaval as one of its two black professors faces a school inquiry over her adherence to its strict statement of faith.
Larycia Hawkins had claimed that Christians and Muslims worship the "same God" as she explained why she was wearing a hijab in December.
Now one of her colleagues, Counseling Prof. Michael Mangis, is claiming that "white privilege" is behind her adjudication, which could (but is unlikely to) end in the tenured Hawkins' termination.
Mangis himself helped inflame the situation when he gave a Time reporter an email from Wheaton's provost that called Hawkins' original comment "innocuous."
In a message posted with permission on the blog of Artur Rosman, a former Polish TV personality and recent Ph.D. recipient from the University of Washington, Mangis wrote that he had been "attacked or ostracized" by defending Hawkins on Facebook.
Not content to simply criticize Wheaton's process for vetting theological pronouncements by faculty, Mangis writes that at Wheaton – a university sometimes referred to as an evangelical Harvard – "white patriarchy reigns virtually unchallenged":
Patriarchy has evolved to maintain and protect the illusion, for men, that we are entitled to be obeyed and served. For years I have taught my students that it is the responsibility of those who benefit from these insidious systems to expose and dismantle them.

I know that many people have difficulty believing in these systems. Sadly, recent research reveals that White Christians are among the most adamant in their denial of the existence of such phenomena as Racism, ethnocentrism, white privilege, sexism, racialized police brutality, and the like.

I can testify to the fact that White Patriarchy exists at Wheaton because I have benefited from it while Dr. Larycia Hawkins was subjugated by it.
Michael Mangis, Wheaton prof, argues racism, sexism central to Hawkins case: https://t.co/gmMKhaBBGH

— Kirkland An (@kirkland_an) January 28, 2016
Mangis, who calls himself an expert in "the relationship between authoritarianism and sexism in the Evangelical subculture," goes on to explain that he faced practically no repercussions for making a joke about teaching students how to pray in Islam because … he's white?
I knew the proper tone and keywords to use for my apology and explanation and assurance of future conformity. In short, as a member of the '"club," I knew the code and I knew that I would be fine at the resolution. In fact, my situation was resolved to everyone's satisfaction within a few hours.
When Mangis shared his story in a faculty meeting, someone tipped off the Time reporter, who goaded him into turning over the emails from Provost Stanton Jones:
I examined my conscience and realized that I would always feel like a hypocrite if I chose to protect myself over standing up for justice and for Larycia.
What's funny about Mangis is that he doesn't blame Provost Jones for consciously treating Hawkins unfairly:
At the same time in my heart I have no doubt that Stan, I, and everyone involved, are deeply entrenched in a nearly invisible, insidious, socio-cultural system that has influenced our thoughts and actions, and that honesty, humility and transparency are required to bring change. …

Larycia should never have been asked to subordinate herself to white male leadership.
h/t Kirkland An
Like The College Fix on Facebook / Follow us on Twitter
IMAGE: Alex Brylov/Shutterstock