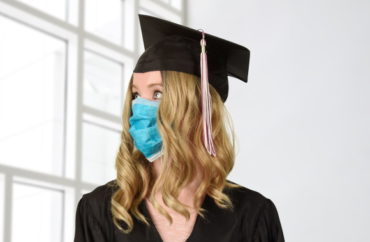 It was a moment most college seniors can recall vividly: the email to evacuate campus and prepare for the spring semester online.
Aside from the nightmare logistics of it all, the sinking feeling that they were saying goodbye to their senior year milestones also loomed large.
Now, a month after colleges closed shop, seniors realize their worst fears have become reality.
"All my hard work went to nothing," said Franco Valiente, a fourth-year at UC Berkeley. "Studying computer science for four years — everything builds up to this moment [graduation]. Now, it's all gone."
For Aamir Singh, a first-generation college student at New York University, he told The College Fix he is incredibly disheartened that he will not be able to graduate at Yankee Stadium in May.
"My family and grandparents were scheduled to come to New York to see me, the first in my family, graduate college," Singh said. "Now, we'll never know when or even if graduation is actually happening or not."
New York University's President Andrew Hamilton expressed regret over postponing the annual ceremony.
"Given the advice of public health officials, as well as the restrictions put in place by city and state authorities, and out of our own sense of obligation to safeguard the safety of our community, it is impossible to imagine we could or should hold such large assemblies this spring," Hamilton stated.
Most universities nationwide have either moved their spring graduation ceremonies online, postponed them until further notice, or cancelled them entirely, effecting approximately 2 million undergrads, according to data from the National Center for Education Statistics.
Sarah Morcott, a senior studying political science at California State University, Chico shared her dismay with the university's approach to commencement.
"As if a Zoom graduation will fix this," Morcott said. "It's surreal to me that in such a short period of time, so much has changed. After four years of hard work and dedication, my senior year has effectively ended without a true sense of closure. Disappointed in Chico State for their handling of commencement. It feels like a slap in the face after working hard for so many years to be treated this way. If I don't get to walk I should receive a refund. Shameful."
University of California, Irvine was one of the first UC campuses to cancel graduation in California, noting "while some may believe that Coronavirus and resulting COVID-19 disease will subside in a few months, given the rapid and evolving nature of the virus, the risk is too great to the community to assemble large gatherings such as UCI Commencement."
At UCLA, it's planning "a celebration of our graduates with the best virtual event possible on Friday, June 12, 2020," with a possible in-person event sometime later this year.
Private colleges have made similar announcements regarding commencement ceremonies. University of Southern California has postponed graduation, adding in its announcement the "celebration will take place when travel and large group events once again become safe."
Hongru Sun, Chinese international student and a senior at Fordham University, will not be able to return to campus for the postponed graduation.
"I am back home to Shanghai for the rest of the semester," Sun told The Fix. "There is no new scheduled date for the postponed graduation ceremony, so I'm probably never going to return to campus again."
YOU VOTE: What should universities do about spring commencement ceremonies?
IMAGE: Creative Angela / Shutterstock
Like The College Fix on Facebook / Follow us on Twitter