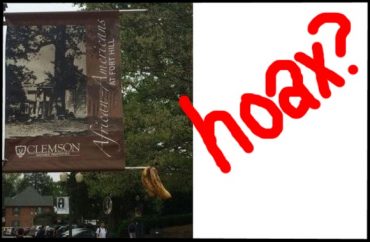 ANALYSIS
Was the incident that recently provoked a massive protest at Clemson University based on a hate-crime hoax?
The answer to that question remains elusive as campus officials refuse to identify the people who hung bananas from a banner commemorating the plight of African Americans in the Civil War at South Carolina's second largest university.
The act was widely perceived as a racist gesture and precipitated an eight-day sit-in by racial-grievance protesters last month.
Asked point-blank by The College Fix this week whether the incident was a hate-crime hoax, a university spokeswoman replied via email with only the following: "The incident has been investigated. There were no criminal charges applied to the individuals who came forward to express their involvement, and the case has been resolved."
The "racist" bananas had prompted the weeklong sit-in at Sikes Hall, Clemson's administrative building. Student protesters claimed they felt unsafe at Clemson, that it was filled with racism, and that "Clemson does not embrace its students from underrepresented groups."
According to various news reports, "dozens" of students called for the university to take action in investigating the banana bandits and to promote a diverse and inclusive campus environment. Five were even arrested for trespassing after refusing to vacate a closed campus building.
Ultimately, Clemson President James Clements, in response to demonstrators' decision to "suspend" their protest, thanked the activists, and announced a series of initiatives to address their demands. Among them, he pledged to diversify and double the number of underrepresented minority faculty by 2025 and to have all employees participate in diversity education and training.
As for the bananas, several news reports noted Clemson officials had been determined to apprehend the culprits after the ripening fruit had first been spotted in mid-April. Talk of using surveillance video was bandied about by campus officials and others.
President Clements, in a statement to students, had said "this type of conduct is hurtful, disrespectful, unacceptable and will not be tolerated."
Yet the university's statement to The Fix that "there were no criminal charges applied to the individuals who came forward to express their involvement" does not entirely line up with the president's initial sentiments.
RELATED: In response to possible noose hoax, Duke misstates law to shield perp's motivation
Meanwhile, two Clemson students are considering filing a lawsuit against their school for allegedly failing to acknowledge several Freedom of Information Act requests "seeking out information regarding the identity and motivations of the two individuals who confessed to placing the bananas on the banner," Campus Reform reports.
"It leaves one to wonder: What information are they neglecting to provide that is so important to the university, that they are willing to violate federal law and risk a federal lawsuit?" Clayton Warnke, one of the students behind the records act requests, told the news outlet this week.
And an editorial last week on Fits News by six Clemson students headlined "Unanswered Questions at Clemson University" stated that "since campus wide unrest was the direct result of the four bananas being hung it seems natural to ask who hung the bananas and what their motivations were. The Clemson administration knows the answers to these questions, but has not revealed them. The only thing most people on campus are aware of is the suspicious behavior and activity from the administration and the student protest leaders."
"There have been allegations on campus that the student who placed the bananas on the banner in the first place was African American," the editorial continued. "The implication is that the student intended for the incident to incite a campus protest. If this is not the case, why has the administration not released any information about the race or motives of the student who placed the bananas?"
"As it turns out, no charges (criminal or disciplinary) were brought against this student. If the act was supposedly so racist that the administration has decided to start assigning mandatory diversity and inclusivity training to faculty and students, then why was the individual not sanctioned? And if the individual was not sanctioned because she or he did not place the bananas in an act of racism, why are administrators and student activists still claiming the campus has a racially discriminatory environment?"
RELATED: Clemson squatters get bored waiting for their demands to be met, 'suspend' their sit-in
Like The College Fix on Facebook / Follow us on Twitter