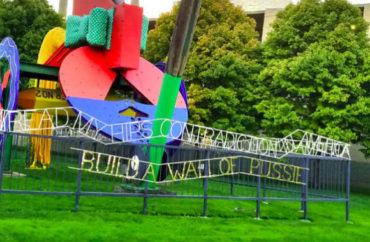 Contract prevents it from modifying the artwork
Cleveland State University signed a contract with Billie Lawless more than 10 years ago to place his "mechanical sculpture" on campus as a work of political art that he modifies over time.
Previous sarcastic slogans he has attached to the sculpture include "OBAMA SCARE" and "AFFIRMATIVE FRICTION."
The university itself is not allowed to "modify, disassemble or demolish" the sculpture or change the area within the fence that surrounds the sculpture, however. According to cleveland.com, "The university extended the contract twice, first until 2017 and then to 2020."
This wasn't a problem – until Lawless decided to mix two references to President Trump in his modification last fall.
The administration covered up his phrase "BUILD A WALL OF PUSSIE" with a "recycled homecoming banner," according to the Foundation for Individual Rights in Education.
The National Coalition Against Censorship protested the move at the time, saying that covering up the "humorous one-foot-high texts that play with popular political slogans and media clichés" are likely a First Amendment violation.
Lawless has taken the baton from the coalition, filing a federal lawsuit against the public university for violating his free-speech rights, retaliating and breaching their contract.
He's claiming at least $75,000 in damages, the minimum threshold for federal jurisdiction, according to cleveland.com:
James Gross, the university's fiscal manager, asked Lawless to remove the text on Oct. 17. Lawless responded the next day by demanding the university remove the banner, according to the suit.

The university notified Lawless that it intended to terminate the contract on Nov. 28. The sculpture remains on campus, as the contract requires either side to notify the other of a termination six months before an end date, said Lawless' attorney Andy Geronimo.
The artist lost his first round in court last month when Judge Dan Polster declined to issue a temporary restraining order that would force the university to remove the banner. Geronimo, the attorney, said the judge set another meeting for Feb. 8, but the results of that planned meeting have not been reported that The College Fix can find.
CSU told cleveland.com that the dispute is a "contract matter," not a First Amendment matter, and it had the right to terminate the contract.
FIRE said the dispute goes beyond both the Constitution and the specific contract with Lawless, reminding CSU of its own policies:
While Lawless is neither a professor nor a student, Cleveland State University has committed itself to a robust culture of free expression, having adopted a version of the Chicago Statement and being the only institution in Ohio to maintain a green light rating in FIRE's Spotlight database. Free expression requires the protection of artistic expression — even when some may find it inappropriate or offensive. In its actions here, CSU fails to uphold its promises to the university community.
Read the cleveland.com report, FIRE post and NCAC statement.
MORE: Yale art history professors silent as Yale censors artwork
IMAGE: Billie Lawless
Like The College Fix on Facebook / Follow us on Twitter