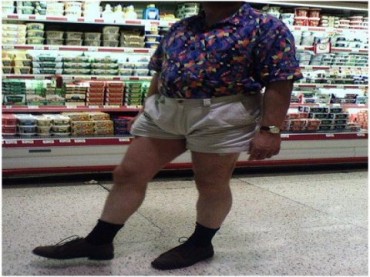 Sometimes teachers' unions have a beef with the most trivial of issues — in Cleveland's case, a very basic dress code which would prohibit jeans and sweatpants (except on designated days).
Seriously.
"Students in the Cleveland schools have a dress code, said [District Chief Academic Officer Michelle] Pierre-Farid, so teachers should also follow some standard."
Pierre-Farid and other administrators have seen "teachers in T-shirts and jeans – not just on school spirit days or and not just shirts with the school name or logo."
Some of the shirts have been inappropriate, too, such as one "with a beer can on it."
The Cleveland Plain Dealer reports:
She [Pierre-Farid] has also seen teachers in short skirts and sometimes not wearing shoes, but "flip-flops" instead.

"Most of our teachers do dress professionally, so this is not an issue for them," Pierre-Farid said. But all teachers should meet a standard, just like the students.

"To say that we will dress professionally, as well, is not too much to ask for," she said.

CTU [Cleveland Teachers Union] President David Quolke said teachers believe in dressing professionally, but these Corrective Action Plans are not the place to do it.

He said: "There are some people, not just teachers, you want to say, 'Aww, come on, spruce it up a bit.' But it isn't a pervasive problem. It's not something that they can't figure out on a school by school basis."

Jillian Ahrens, a CTU vice president, agreed.

"We believe that corrective action plans should be about academic achievement.," Ahrens said. "This is not."

Shari Obrenski, another CTU vice president, called the requirement "insulting" and said that principals should just have a conversation with the teacher if there is a problem.

"There are ways to do it with treating adult professionals like adult professionals," Obrenski said.
Having a simple dress code codified, however, would mean there could be — gasp! — consequences for those who wish to be slobs in their jobs continually.
I'll be among the first to agree that a dress code isn't of paramount importance in (public) education these days; however, since this proposed requirement is so very basic, any teacher discord appears incredibly petty.
h/t to The Daily Caller.
Like The College Fix on Facebook / Follow us on Twitter
IMAGE: Meredith P./Flickr