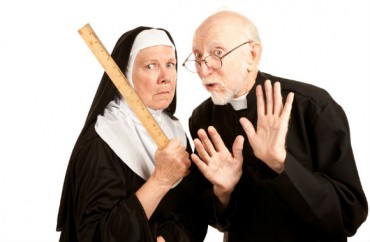 This is the risk when you have a generation dominated by "nones" and clueless about American history.
A Dominican friar on a prayer walk around Indiana University-Bloomington Monday night was mistaken for an armed member of the Ku Klux Klan, sparking a social-media freakout and leading students to confront the poor guy while he was trying to order frozen yogurt.
The Tab broke the story, while Townhall.com and Reddit filled in the background.
A resident adviser emailed his residents to warn about the reports of the KKK on campus, saying campus police couldn't do anything about it because of the Klansman's "first ammendment [sic] rights," and advising them to just stay inside for the night or contact him if they feel "unsafe."
The Tab said:
While the KKK has been active in the area in the past, it later became apparent this klansman armed with a whip was actually just a monk of the Dominican order in traditional white robes. The "whip" he was holding may have been his rosary beads.
After a picture of the supposed violent racist at Red Mango got sent around, RA Ethan Gill posted a clarification to Facebook (not public) halfheartedly apologizing for his own naivete and negligence but calling the viral reports "a hilarious miscommunication."
Yeah, rising up with digital pitchforks against a guy praying for your clueless souls is a riot.
A person on Reddit recognized himself in the Red Mango photo: