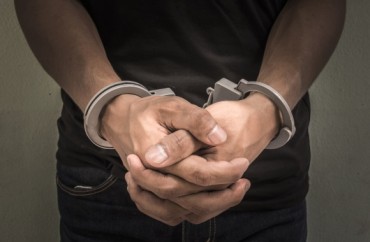 Charge against conservative speaker is dropped 
A college adviser caught on video last month taking a conservative speaker's speech at the University of Connecticut has been charged as a result of her actions.
The Hartford Courant reports that Catherine Gregory, an employee at Quinebaug Valley Community College, has been charged with attempted theft and disorderly conduct. The college adviser turned herself in on Sunday, according to the newspaper.
The charges stem from an incident that occurred on Nov. 28 during a speech given by Lucian Wintrich, the White House correspondent for the conservative website The Gateway Pundit.
Gregory was among dozens of audience members protesting Wintrich's speech, which was titled "It's Okay to Be White" and organized by the UConn College Republicans.
Video from the event shows Gregory approaching Wintrich's podium, taking a copy of his speech and then walking away. Wintrich then ran after Gregory and was involved in a physical altercation with her.
Wintrich was arrested and charged with breach of peace, but that charge was dismissed on Monday. In a post on The Gateway Pundit, Wintrich said Gregory's arrest and the dismissal of his charge is "a victory for our constitutional rights and an open dialogue on the college campuses of America."
Wintrich's lawyer said the conservative speaker was a "victim" and that the law allows "reasonable force" to take back a stolen item. Meanwhile, the Courant reports that Gregory's lawyer, Jon Schoenhorn, said he hopes the charges against her are dismissed as well.
"Ms Gregory [sic] reaction was measured and understandable compared [sic] other people's reaction in light of Wintrich's apparent goal of inciting a violent response," Schoenhorn said.
Gregory is currently on leave from her position at Quinebaug Valley Community College, the Courant reported. Following the Nov. 28 altercation, the school said in a statement that the associate director of career services and advising attended Wintrich's speech as a "private citizen" and that it doesn't condone her actions.
Quinebaug Valley Community College did not immediately respond to a College Fix request for comment regarding the charges levied against Gregory
The Norwich Bulletin previously reported the community college bolstered security because of death threats directed toward Gregory, and an editorial recently penned by the Courant's editorial board stated that Gregory "acted like a delinquent" at Wintrich's speech and should be punished.
Following Wintrich's speech at UConn, students at the university held a "Meeting of Healing" and "March for Action." The university has also revised its directives for bringing speakers to campus.
Read the Hartford Courant article.
MORE: UConn students hold 'Meeting of Healing' following conservative speaker's visit 
IMAGE: Shutterstock
Like The College Fix on Facebook / Follow us on Twitter