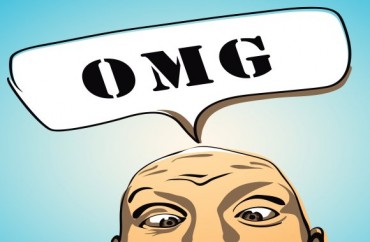 How dare an event do a word play on the US president's campaign slogan?
An Ohio university ended up canceling an on-campus bar and grill's event because it featured a play on President Trump's "Make America Great Again" campaign theme.
According to The Observer, Case Western Reserve University's The Jolly Scholar had planned a "Make America Jolly Again" party on January 26 featuring red baseball caps with the event's slogan on them.
However, "a large number of diverse student organizations" expressed their displeasure in a letter to the bar's owner, Matt Vann.
"The red cap and its slogan have become a symbol for hate and bigotry in this country," said Justine Bernacet, president of the campus Latino organization La Alianza. "It is no longer a marketing tool of a presidential campaign—the slogan is used by hate groups and extremists nationally as a rallying cry for violence and abuse against marginalized communities."
She added: "Many of us do not see it as that big of a jump from wearing these red caps to white hoods."
Responding to the furor in a Facebook post, The Jolly Scholar said its goal was "never to offend anybody for any reason and was [its] way of saying nothing politically other than our approach is to be simply jolly."
"We understand the current state of politics," it added. "We always try to remain unaffiliated."
La Alianza supports Hispanic and Latino members of the campus, and acts as a forum for discussion and activism. When The Observer spoke with Bernacet, she had not been informed by CWRU that they had intervened and shut down the event. The letter was sent from her email address.

Vann responded to those who sent the letter on Monday, Jan. 29, explaining that his goal was not to "offend or be ignorant," but instead spark a discussion among "young brilliant minds" before Trump's State of the Union Address on Tuesday, Jan. 30. In the letter, he apologized, stated he is a Democrat, is unhappy with the Trump administration and explained why he used "Jolly" outside of the restaurant's context.

The letter stated: "If I missed the mark with the hat, I apologize.… It is insulting to say that this country is no longer 'great' like the original Trump hat obviously insinuated and then attack the minorities of this country … which is why I attacked the word 'Great' and substituted the word "Jolly." …

On Facebook, many people reacted to the event's cancellation with dismay. The Observer spoke with some of them.

"I think students overreacted to the event," an alumnus who lives in the Cleveland area said. "To me, it seemed pretty obvious it was just meant to be a fun event based on a play on words, not a political statement. If I were to just assume it was one, it looked more like a mockery of Trump's slogan than an endorsement of him."
Ironically, La Alianza holds multiple events every year at The Jolly Scholar. The most recent,"Noche Latina the Return of Noche Latina," took place on February 3.
Two years ago in honor of the restaurant's eleventh anniversary, The Observer did a feature on the establishment and owner Vann.
MORE: CWRU offers profs up to $10,000 to promote social justice
MORE: 'Oath of Inclusion' considered at Case Western Reserve U.
IMAGE: Shutterstock.com
Like The College Fix on Facebook / Follow us on Twitter