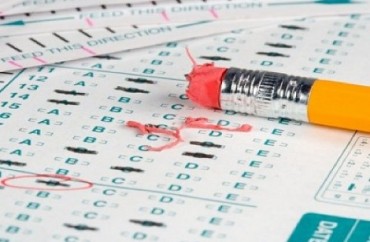 The average score on the Scholastic Aptitude Test (SAT) for 2015 was 1490, a decrease of seven points from last year and "the lowest performance since the 2,400-point scale was developed nearly a decade ago."
Students dropped in all three areas of the test — reading, writing, and math.
The College Board, which makes the exam, will introduce a newly designed assessment for 2016.
"Obscure vocabulary will be eliminated, along with penalties for guessing, and the essay will be optional, returning the SAT to a 1600-point scale," Education Week reports.
"The ACT and SAT are now moving to be much more performance-based than in the past," said Bob Wise, a former governor of West Virginia and the president of the Alliance for Excellent Education, a Washington reasearch and advocacy group. While the scores don't reflect that enough students are ready for college, Wise said, one positive note is that more students are taking the test—especially those who have been traditionally underserved by colleges.

On both the SAT and ACT, scores were lower for underrepresented minorities than for white students who took the exams.
RELATED: Universities drop SAT requirement in effort to 'diversify' their campuses
While 61.3 percent of Asian students and 52.8 percent of white students met the college-readiness benchmarks on the SAT in the class of 2015, just 16.1 percent of black students, 22.7 percent of Hispanic test takers and 32.7 percent of Native Americans did — virtually flat for all groups compared to last year. (The SAT Benchmark score of 1550 is associated with a 65 percent probability of obtaining a first-year GPA of a B- or higher in college, which in turn is associated with a high likelihood of college success.)

On the ACT, just 6 percent of African-American students and 15 percent of Latinos were college ready, according to the benchmarks for all four subjects.
To address "concerns over unequal access to test preparation" the College Board will team with the Khan Academy in offering free online practice tests.
Like The College Fix on Facebook / Follow us on Twitter