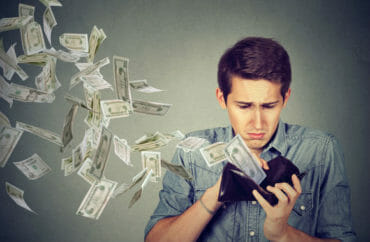 Watchdog blames 'administrative bloat'
As the issue of college affordability continues to be a prominent talking point on the campaign trail ahead of the 2020 presidential election, a new study shows that the cost of a college education is still increasing at a rate that far outpaces inflation.
The study, put out by the financial technology company Self, found that on average, college costs have risen $2,835 since 2015, increasing 112 percent more than the rate of inflation during the same period.
"While it is somewhat understandable for universities to increase costs in line with inflation, especially when you consider the number of wages and resources needed to keep a university running, the price hikes we have found in some states are double (if not triple) the rate of inflation; posing the question of where is this money going," Self CEO James Garvey said in an emailed statement to The College Fix.
The analysis found that "university students are paying $29,133 on average across all states just to attend. This is an increase of $2,835 for every year of tuition above the prices student were paying in 2015."
It also found that across all states, Montana had the sharpest increase in college costs, with the average cost going up 30 percent in the past four years. Alaska was close behind with a 28 percent increase, and Texas rounded out the top three with an average cost increase of 20 percent.
Texas education watchdog Mark Pulliam told The College Fix in an email that the increase in costs in Texas was likely due to an increase in bureaucratic hirings.
"Administrative bloat contributes enormously to the high and rising cost of tuition. In recent years, non-teaching personnel in higher education have exploded," Pulliam said. "At some colleges bureaucrats outnumber faculty. The 'diversity bureaucracy' has proliferated at many schools. UT employs nearly 100 people in its diversity department, some of whom are paid in the six figures. Unnecessary and overpaid administrators are responsible for much of the increased overhead borne by students in the form of tuition increases."
Texas Public Policy Foundation's Thomas Lindsay echoed Pulliams' comments.
"Our research suggests that the bulk of the increases go to administration, a phenomenon dubbed 'administrative bloat,'" Lindsay said in an email to The College Fix.
What's more, Texas colleges and universities are not alone, he added, noting that while 40 years ago faculty outnumbered administration by roughly 2 to 1 nationwide, today the proportions are nearly equal.
Meanwhile, there is one state that bucked the national trend.
Self found that Nevada's average tuition cost actually decreased 2.8 percent relative to inflation. In 2015, tuition in the state averaged $28,857. In 2019, that number had dropped slightly to $28,045.
"Inflation is a worry for many people but, for some students and their families, rises in inflation can be the difference between being able to afford to attend university and obtain a degree, and missing out entirely," Garvey said.
The study incorporated the costs of tuition, room and board, and books and supplies to determine the average cost of a college education on College Tuition Compare. Inflation was calculated through US Inflation Calculator.
IMAGE: Shuttershock
Like The College Fix on Facebook / Follow us on Twitter