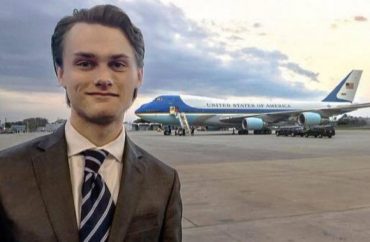 But he didn't act 'in a respectful manner'
Marshall Polston, the Christian conservative student who was suspended from Rollins College after challenging his Muslim professor's attacks on Christianity, has been reinstated.
After a weeklong battle against "unfounded allegations" that Polston was threatening his professor Areej Zufari, Polston's lawyer said the college should investigate wherever Zufari should remain at the school at all, given her "malicious assassination" of his character.
Even as it cleared Polston of the most serious charges, Rollins said he was culpable for not treating others "in a respectful manner."
Polston believes that administrators realized they were in the wrong, and that they made the right decision to "uphold the integrity on which they were founded," he told The College Fix in a phone interview early Friday.
But he's still weighing whether to sue Zufari, who filed a complaint against him for making her feel "unsafe" – by questioning her curious claims about Jesus Christ and his disciples.
Student was still 'vulgar'
Rollins' reinstatement letter to Polston finds him "not responsible" on all three charges: "Abuse (Physical, Mental, or Verbal)," "Disruptive Behavior" and "Requests or Orders."
Though he has not "crossed the threshold" of violating community standards, Polston has been "aggressive, disrespectful, and at times, vulgar in multiple verbal and electronic communications with faculty, staff and students," the letter said.
If he is to disagree with a professor, the college said, Polston must do it "respectfully" and in compliance with the "oath" he took when he entered Rollins, the oldest post-secondary institution in Florida.
"Please use this occasion to reflect on how best to express your opinions and treat others in a respectful manner," it concluded.
Polston Reinstatement Letter by Jacob Engels on Scribd
MORE: Christian student suspended after challenging Muslim prof's Jesus claim
In a press release Thursday night, Polston attorney Kenneth Lewis thanked the director of community standards and responsibility, Meaghan Rempala, "for her thoroughness, neutrality, and professionalism in conducting the investigation."
But he went after Zufari for undermining "a student's freedom of speech and expression," which are "the cornerstones of liberty in a free society."
Quoting from a famous Cold War-era Supreme Court decision, Lewis said: "Teachers and students must always remain free to inquire, to study and to evaluate, and to gain maturity and understanding; otherwise our civilization will stagnate and die." (A sitting judge on the 2nd U.S. Circuit Court of Appeals also recently cited the language in an op-ed against campus censorship driven by the political left.)
Tried to 'destroy' his academic career
Rollins must investigate whether Zufari has "fitness to continue" at the school "in any capacity," Lewis said, noting his client has "lived in exile for the past week" because of his professor's "unfounded allegations."
Zufari tried to "destroy" Polston's academic career "for merely questioning her academic validity," and her "abuse of the system as well as questions about her affiliations are far more worthy of an investigation than any student challenging a professor," Lewis said.
MORE: Here's the epic email Polston sent Zufari about her flawed lesson
The lawyer is apparently referring to allegations against Zufari in a lawsuit filed 10 years ago. Zufari was having an affair with a man and trying to "indoctrinate" his wife's two children "with fanatical Islamic beliefs," according to the Central Florida Post, which is published by Orlando's Jacob Engels.
The lawsuit also claims Zufari and her romantic partner went to Seattle to conduct "targeting and surveillance" of American interests.
Zufari Lawsuit by Jacob Engels on Scribd
"It's really distressing to know that this type of person is teaching at our colleges and it's very discouraging to see this happen," Polston told The Fix.
The student is weighing legal options against his professor. "You know, Ronald Reagan had a saying," Polston said. "'If you can't make em see the light, make em feel the heat,' and I think we need to make this teacher feel the heat."
As for his own future, Polston said he'll decide over the summer whether to stay at Rollins.
Will Nardi contributed to this report.
MORE: Federal judge warns the Left is bringing back Cold War-style censorship
Like The College Fix on Facebook / Follow us on Twitter
IMAGE: Facebook screenshot