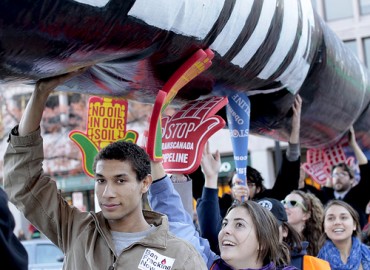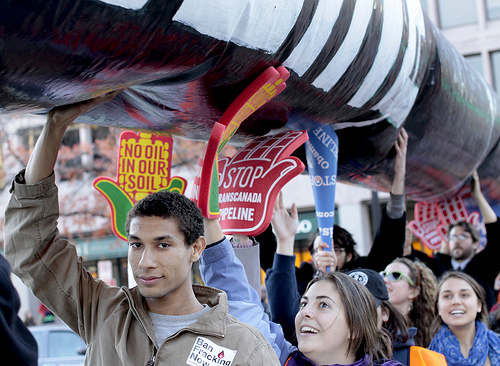 While Swarthmore College officials have not budged on student demands for endowment "divestment" from oil companies, its President Rebecca Chopp has extended student activists and members of its Mountain Justice Club quite the olive branch: chartered buses to the President's Day Tar Sands protest against the Keystone XL pipeline.
Green groups at Swarthmore, like those at Harvard, Cornell, Middlebury and other private universities, have been ratcheting-up the call for their colleges' to pull endowment investments out of the fossil fuel industry.
Though Swarthmore is unlikely to play games with its $1.5 billion endowment, funding for the anti-Keystone rally, scheduled for Feb. 17, comes directly from Swarthmore President's Office, an indication administrators will not shy away from aligning with an environmentalist movement on the Left when they can.
Some have speculated the move is also an apparent appeasement effort to students who've called for the college to divest from big oil.
This weekend's protest is slated to take place at Washington D.C.'s National Mall and is billed by organizers as "the largest climate rally in history."
At the heart of the protest are demands to ensure the Keystone crude oil pipeline – which would ship crude from the oil sands of Alberta, Canada, to refineries in Texas – is never approved by President Barack Obama.
Chopp told the Swarthmore Phoenix that she and the college's Vice President Maurice Eldridge "have offered support from the President's Office to pay for a bus to take community members who are interested in participating."
As many students as possible have been encouraged to attend. An email from Eldridge, addressed to the "full community," urged students to "Get on the bus!"
It went on to say: "We'll have a charter bus to get you from Swat to the President's Day Tar Sands protest and back again. Join your fellow students and stand in solidarity with thousands from throughout the US and Canada."
But not all Swarthmore students appreciate this version of green solidarity.
Cole Turner, a member of Swarthmore's Conservative Society, told The College Fix, "The college community as a whole obviously leans to the left, but they seem to contradict their message of all-inclusion with their silencing of the pro-pipeline minority."
Turner said he'll refrain from joining the "militant greenies" in Washington and noted, "an institution of higher education should focus more on opening the minds of their students rather than indoctrinating them against a project that would economically benefit the nation as a whole."
The Student Budget Committee, overseen by students, usually distributes funds for club trips and similar endeavors. Technically, the Deans' Office will sponsor one conference per student per year.
The President's Office, however, usually only sponsors major academic initiatives or events that reflect the whole campus. But the assumption that the Keystone Pipeline protest is an appropriate campuswide initiative is offensive, according to some conservative students.
Some have also argued it's a means of quieting the school's divestment movement, which made the front page of the New York Times in December and has since given campus administrators plenty of reason to hand wring, as students demands have not been squelched despite administrators' refusal to divest.
Fix contributor Danielle Charette is a student at Swarthmore College.
IMAGE: TarSandsAction
Click here to Like The College Fix on Facebook.