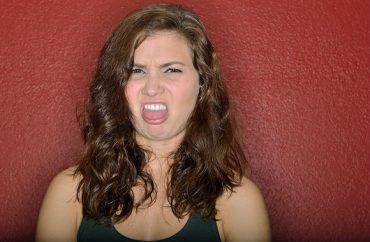 Imposes gag order on professor under investigation
Northwestern University investigated Laura Kipnis for potential Title IX violations because the communications professor wrote an essay decrying "sexual paranoia" on campus.
Not to be outdone, Arcadia University investigated its own communications professor for sins against Title IX because he dressed up some dildos to resemble Donald Trump.
Alan Powell used the dildos in a larger anti-Trump art installation, co-created by students and alumni, that was displayed near his office this winter. It included Trump recordings and audio and video from a Nazi propaganda film. (Powell said members of his extended family died in German and Japanese concentration campus.)
According to the Foundation for Individual Rights in Education, a fellow professor passed along a student complaint that decried the "footsteps of hitler and his henchmen" and the "implied genitals" the student had to confront whenever passing through the hall:
I'm really trying to not make waves and have been trying since this exhibit started but I just can't help it because this is flat out wrong and we don't deserve to have our learning environment decimated with sexually explicit language, images, antisemitic audio and video and trash. It is effecting my ability to sleep, focus, and most importantly, learn.
MORE: Students protest 'Dolphin Rape Cave' at arts college
Powell and his co-creators responded by email with defenses of uncomfortable art and invitations for critics to engage with their art, even to "deface" it and put up "protest signs" over it. His students printed the emails and posted them on the art wall.
That was a big mistake from the perspective of the administration, which ordered the printouts removed based on the false claim that they named the complaining student, whose identity was never revealed.
A top human-resources official demanded a meeting with Powell to discuss complaints from "some students" who said they "suffered an adverse impact from exposure to your exhibit." She ordered him to keep the Title IX investigation secret because "they involved complaint [sic] from students."
The official warned Powell he risked more Title IX complaints because the exhibit – by then moved into his office – was still visible from the hallway. She repeated the baseless accusation he had publicly identified the complaining student.
With no explanation, a few days later Powell was told there was no "actionable" Title IX violation to investigate. (Though members of his department and the provost defended his right to display the installation, it wasn't enough to stop a groundless investigation from being launched.)
Should be big news: Arcadia launched a Title IX investigation of professor for anti-Trump art exhibit. https://t.co/SRpBroytqD pic.twitter.com/pzHWV91TKu

— Peter Bonilla (@pebonilla) June 30, 2017
MORE: Public university hides anti-Trump exhibit so it won't offend students
FIRE says:
[The HR official] explained that the complainants alleged "adverse impact from exposure to your exhibit." If art installations commenting on contentious current day issues could constitute violations of Title IX simply because their material is sexually-themed or could cause an "adverse impact," then there isn't much artwork that wouldn't be under investigation. …

[A] student or professor might rationally conclude that the best way to avoid another baseless investigation in the future is to steer clear of controversial expression and topics that could elicit complaints.
Controversial campus art has faced multiple Title IX or hostile-environment complaints over the years: a dolphin-rape exhibit (based on observed dolphin behavior) at New York's School of Visual Arts, rape-in-war exhibit at Columbia, nude "figure drawing" classes at the University of Oregon, and anti-racist installations at the University of Iowa and Salem State, among others.
Salem State just received a "Campus Muzzle Award," bestowed by FIRE co-founder Harvey Silverglate, for first shuttering the anti-Klan art exhibit and then reopening it behind privacy curtains of the sort you'd find in a porno theater.
MORE: U. of Iowa claims it didn't censor anti-racist statue
Like The College Fix on Facebook / Follow us on Twitter
IMAGE: Aspen Photo/Shutterstock