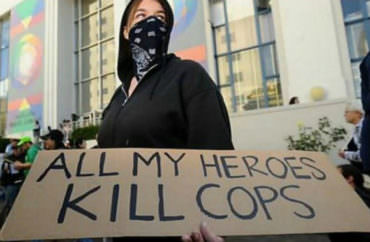 Everyone believes the First Amendment requires balanced viewpoints
Previous surveys have shown that college students have a narrow view of free speech, but John Villasenor of the left-leaning Brookings Institution has shown us just how far students will go to protect that narrow view.
In a survey of 1,500 undergraduates last month, Villasenor found startlingly high numbers support shouting down controversial campus speakers and even using violence to stop their events.
And within that range of support, men were the leading cheerleaders for squelching the free speech of others.
The results show that "freedom of expression is clearly not, in practice, available on many campuses, including many public campuses that have First Amendment obligations," the nonresident senior fellow writes.
A plurality of students (44 percent) believes the First Amendment doesn't protect "hate speech," though women believe that more strongly (49 percent) than men (38 percent). Twice as many women as men answered "don't know" on that question.
There's little difference in opinion between self-identified Republicans and Democrats, too – neither has a majority that correctly believes hate speech is constitutionally protected, Villasenor notes.
But the gender difference swings around when the question is student response to controversial speakers.
Nearly three in five men agree it's "acceptable" for a student group to disrupt "the speech by loudly and repeatedly shouting so that the audience cannot hear the speaker." Just under half of women believe the same.
Here, the partisan divide is wide: 62 percent of self-identified Democrats agree with shoutdowns, compared to 39 percent of self-identified Republicans.
The gender divide holds again with violence "to prevent the speaker from speaking": Three times as many men (30 percent) as women (10 percent) believe it's appropriate. The partisan divide is surprisingly narrow here.
The partisan and gender divides are narrow on the question of whether the First Amendment requires a group hosting a speaker considered "offensive and hurtful" to include "an opposing view" in the event.
More than six in 10 Republicans, Democrats, men and women incorrectly believe this supposed balance is "legally required." Political independents are the least likely to agree with this view, at 58 percent.
Only Republicans would rather have a campus with an "open" environment where students may be exposed to speech "that is offensive or biased against certain groups of people" (53 percent).
Democrats (61 percent), men (55 percent) and women (52 percent) would rather have a "positive" environment that prohibits "certain speech or expression of viewpoints that are offensive or biased against certain groups of people."
Villasenor, who said he plans to publish "a detailed analysis of the results in an academic paper," mulls his findings:
First, I think that college faculty and administrators have a heightened responsibility to do a better job at fostering freedom of expression on their campuses. … I expect that if college faculty and administrators were asked the questions in this survey, the results would, at least in broad terms, be similar to the student results presented above. …

More fundamentally, I think that there is insufficient attention given to the First Amendment, and to constitutional principles generally, in pre-college education. Most middle and high school students are taught, for example, that there is a Bill of Rights. But very few of them receive significant instruction on how key Supreme Court rulings have shaped contemporary interpretations of the First (or other) Amendments.
Washington Post liberal columnist Catherine Rampell comments:
In truth, lefties can do more to call out threats to civil liberties perpetrated by their ideological allies. And colleges can do more to promote freer debate. But many of Villasenor's results — like those from otherdatasources — show that the right is also astonishingly open to shutting down speech.
Read the study, which provides Villasenor's full methodology, and Rampell's column.
IMAGE: Very Fake News/YouTube
Like The College Fix on Facebook / Follow us on Twitter