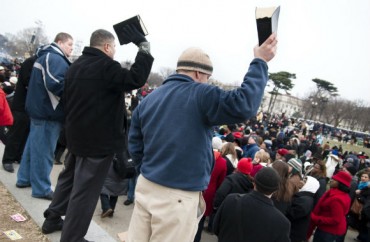 In this corner: the student newspaper editor whose faith compels her to "demonstrate Christ's love" to the hellfire preachers who are hated on her campus.
And in this corner: the journalism adviser who got this goody two-shoes editor fired and who openly drinks with students in the newsroom.
That's the incredible situation at Indiana's DePauw University, a liberal arts school with Methodist roots, which has now incurred the wrath of the Society of Professional Journalists by firing Editor-In-Chief Nicole DeCriscio on trumped-up ethics charges.
Charges that misstate and twist SPJ's ethics code.
Did I mention that SPJ was founded at DePauw more than a century ago?
Take the log out of your own eye
Here's the background, as laid out by Michael Koretzky, who leads SPJ's new student-media rights project known as SMACK:
DeCriscio and a student reporter for The DePauw covered the ongoing tussle between a group of traveling hellfire evangelists from The Campus Ministry USA (think Westboro Baptist Lite) and their antagonists at DePauw.
After the group's third and (presumed) final visit before moving on, DeCriscio wrote a first-person column for another publisher:
What I have found is that [Brother Jed] Smock and other members of The Campus Ministry USA are completely different when you talk to them on an individual level. They are far gentler, and the love in their message, which isn't conveyed when they're screaming on sidewalks, shines through.
DeCriscio noted she gave the preachers "sandwiches and beverages" and took campus Christians to task for not showing Christ's love to the preachers:
I'm a Christian, and as such, I believe that God calls me and other Christians to universally show the love of Christ to others. You don't just turn this outpouring of love on or off depending on who it's directed towards. It's not a light switch. Doing so is the very opposite of showing Christ's love because He showed love through corporal works of mercy to everyone, from the sinners to the pharisees and every possible person in between.
She also criticized DePauw for discouraging students from talking to the preachers, saying it stifled their "intellectual and personal growth." Less than two weeks later DeCriscio was fired as EIC.
Get your facts straight, Meg
DePauw journalism adviser Meg Kissinger – a former investigative reporter and Pulitzer Prize finalist – told SPJ's Koretzky that DeCriscio had violated SPJ's ethics code by inserting her own opinion into an ongoing story, and even denied that the EIC had been fired.
Cue the ethics chair of SPJ, Andrew Seaman, who helped write the code:
"I don't think giving protesters sandwiches and drinks really interferes with Nicole's ability to do a good story."

Even if it did, "I still say the offense didn't fit the punishment – especially for a student publication."
A university fires its student editor for violating SPJ's Code of Ethics – even though @spj_tweets says she didn't. https://t.co/DEeI335La8

— koretzky (@koretzky) February 17, 2016
Adviser Kissinger is flat-out wrong that the student editor violated the ethics code, Seaman said: "In my opinion, everyone there overreacted, took Draconian action, and now are stuck defending those decisions."
RELATED: Student journalists get help against censorious administrators from 'SMACK' watchdog group 
DeCrescio told the Student Press Law Center she thinks the content of her column – sympathizing with hated preachers who attack feminism, homosexuality and abortion-on-demand – got her fired, while Kissinger claims that DeCrescio's reporting was biased from the start in favor of the preachers:
[Kissinger] said the messages of the campus Evangelists were not gentle, but rather inciteful, even going so far to taunt students about mixed-raced relations in the midst of racial tensions on campus.
Koretzky has a theory about why DeCriscio was fired: She had complained that Kissinger was openly drinking wine with student journalists while putting together the paper on publication night, and it resulted in "shoddy journalism."
Koretzky himself had visited the newsroom months before this kerfuffle and said the student journos were rushing through production so they could go drink afterward. The publication board knew about drinking on deadline, yet nothing changed:
I've asked Kissinger about this twice via email, but her only reply has been, "Drinking did not factor in the decision."
As a result, DeCriscio has joined Koretzky on the SMACK team for SPJ, and she'll be speaking at the College Media Association gathering in New York next month:
While she's there, DeCriscio will interview student journalists about drinking in their  own newsrooms – because I doubt The DePauw invented that. Her report will appear on the [SMACK blog] College Media Watchdog.
Amazingly, DePauw gave DeCriscio two grants that are paying for her trip.
Kissinger, the journalist-turned-apparatchik, is about to learn that payback's a bitch.
RELATED: Ex-Journalism Adviser Aims to Shame College Paper By Starting His Own
Like The College Fix on Facebook / Follow us on Twitter
IMAGE: Ryan Rodrick Beiler/Shutterstock, Frinkiac.com