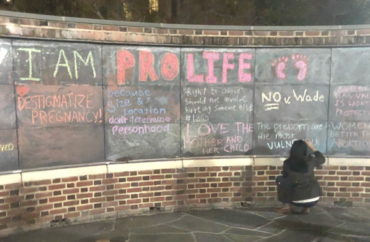 A pro-life student group at the College of William & Mary recently had its chalking vandalized and faced online harassment on social media, which it reported to administrators.
In mid-October, members of "Tribe for Life" wrote pro-life messages on a community chalkboard in the center of campus, such as "destigmatize pregnancy," "not one or the other, love them both," and "abortion hurts women."
The next day it had been wiped off.
The group, which had received administrative permission to chalk, re-wrote the messages and again would return to find the messages wiped away, a pattern that continued for several days.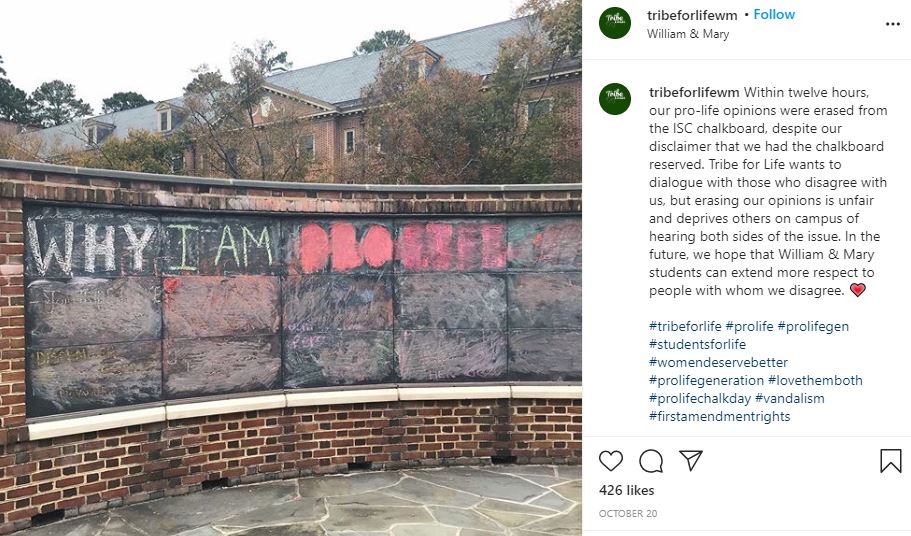 Though it is not clear who erased the messages, the president of the student group, Chloe Folmar, told The College Fix that as members wrote their pro-life slogans passersby verbally mocked them.
Comments on the group's social media posts followed suit.
"I think there's just a level of intolerance for different views that is really unacceptable," Folmar said. "If you look at the polling, 50 percent of Americans are pro-life and 50 percent of American women are pro-life as well. So it's just kind of ridiculous to me that people consider themselves advocating for women by being pro-choice but then they're willing to silence 50 percent of American women on this issue and think nothing of it."
Because the chalkboard can still be used by other members of the campus community, despite Tribe for Life having priority, the group did not report the vandalism.
However, its members reported the troubling comments it received via Instagram.
"This time the amount of backlash has been a lot bigger because we wrote some of our views this time instead of just advertising for an event that has our views," Folmar said.
While some of the comments were more thought provoking — some peers voiced concern that a message compared slavery to abortion — many others appeared to be threatening in nature, according to screenshots obtained by The College Fix.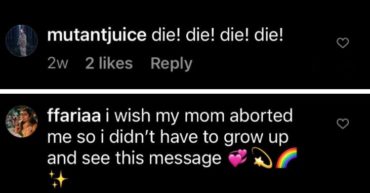 They included comments such as: "ur gonna burn," "The first amendment protects you from the government, not other students," and "die! die! die!"
Another comment stated: "i wish my mom aborted me so i didn't have to grow up and see this message."
Folmar said some members of the predominantly female pro-life group felt slightly frightened.
"It's been really jarring to me that people that are advocating for a feminist issue, are just completely fine with the fact that the women in our pro-life group, we feel worried and uncomfortable just walking on campus because of the threats we've received and the discomfort that we've experienced due to harassment specifically from men," Folmar said.
College of William & Mary's Director of News and Media, Suzanne Clavet, said in an email to The College Fix that the school supports free speech, not harassment.
"William & Mary's policies and guidelines are supportive of our community's rights to free speech and expression," Clavet said. "However, university policy does prohibit harassment, discrimination or retaliation based on a person's belonging to a protected class."
Clavet also said that group's complaints of harassment are reviewed through the Compliance and Equity Office and support resources are available for students when necessary.
Folmar said she believes despite the pushback her group has received their message is as important as ever.
"I found that to be so ridiculous and these students are clearly in an eco-chamber of their own beliefs because they're not willing to realize that half of American women believe the same things that we wrote on that chalkboard and they're not willing to engage in productive dialogue and discussion," she said.
"Rather, they feel the need to just erase our views and call for violence."
MORE: After Students for Life rejected as 'hate group,' members appeal decision
IMAGES: Instagram screenshots
Like The College Fix on Facebook / Follow us on Twitter