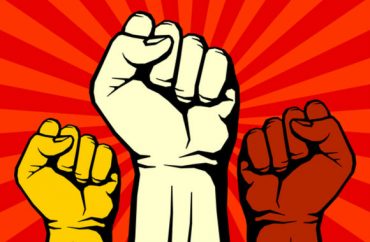 Demonstration is meant to 'bring awareness to issues including police violence against black Americans'
Professors at an upstate New York university will "take a knee" tomorrow in a show of solidarity with protesters across the country.
"Scores of Cornell faculty members" will get down on one knee on the school's Arts Quad on Wednesday in order to "bring awareness to issues including police violence against black Americans," according to The Cornell Daily Sun. The organizers of the event "hope [they] will be joined by students and members of the Ithaca community."
The planned demonstration evokes the recent trend in professional football of players kneeling during the national anthem as a sign of protest, "using their platform as NFL players to speak out on issues black Americans face, particularly in interactions with law enforcement," according to The Daily Sun. 
The professors and other attendees will be kneeling in support of "the black students and other people of color here on campus whose civil rights and human dignity have been demeaned and violated in recent weeks by the actions of racists, nationalists, and white supremacists within our own community," according to a statement released by organizers of the demonstration.
[Cornell professor Tracy] McNulty said that while students have been on the forefront of Cornell's response to several recent incidents, faculty members are often not aware of things happening on or around campus.

"It's not enough to not be racist ourselves," she said. "We have to work on the ways in which even non-racist people … end up promoting inequality in different ways and allowing it to continue."

"I think it's important that faculty step up and not just passively support these demands," McNulty said, referring to demands delivered by Black Students United to President Pollack, "but actively start thinking about them."

In addition to taking a knee and a moment of silence, there will also be several members of the faculty coalition speaking on Wednesday, McNulty said.

Prof. Ella Maria Diaz, English and Latina/o studies, said faculty members need to begin having "meaningful conversations" and go "beyond just initiatives and trainings."

"I'm encouraged that the students who began the conversation, and now the faculty who's joining it, want to clarify the significant differences between open expression, freedom of speech, hate speech and speech that triggers violence against people's very bodies," Diaz said.
One professor claims that there exists an "indirect and subtle" level of racism that perpetuates a racist "structure," and that "that needs to be discussed and it needs to be discussed by faculty and not just students."
MORE: More than thirty professors arrested during pro-DACA street protest
IMAGE: Shutterstock
Like The College Fix on Facebook / Follow us on Twitter