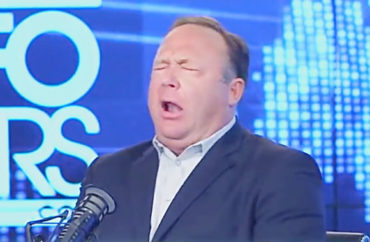 States are moving on this privacy issue. Should Congress?
If you want to know why Bradley Shear is pushing Congress and the states to crack down on social-media snooping by colleges and universities, ask the lawyer about the Alex Jones case.
One of Shear's teenage clients was denied admissions to a prestigious college after the admissions officer ask him why he followed the InfoWars conspiracy theorist on Twitter, according to Shear.
The student didn't interact with Jones or himself promote conspiracy theories – he simply followed a controversial personality.
Shear did a digital background check on the interviewer and learned she is a "follower" of socialist politician Bernie Sanders. The lawyer informed the admissions director about the apparent bias against his client.
The college "quickly resolved the situation to my client's satisfaction" to avoid "negative publicity" about judging an applicant not for what he's done, but who he tracks online, according to Shear.
Informed by previous incidents like this, Shear helped draft a privacy bill that became law in Maryland in 2012.
It prohibits employers from even asking employees or applicants to disclose their login credentials for a "personal account or service," or threatening them with discipline for refusing to hand over their passwords.
Shear takes credit for similar laws "in at least 16 states" that ban college admissions officials from getting access to applicants' social media accounts, the lawyer told The College Fix in an email. "I have been dealing with these types of issues/similar situations for years and advise college applicants/students on these/similar matters regularly."
But he couldn't get Congress to federalize this effort to mark digital trails off-limits to employers and colleges. He helped Democratic Rep. Eliot Engel draft the Social Networking Online Protection Act, but it never even got a subcommittee vote.
"This isn't a Republican or Democratic issue; but an issue regarding the future of our country," Shear told The Fix.
'Offensive comments' about teacher – made privately – get another student rejected
The lawyer recently wrote about the Jones situation on his blog, which covers social-media law.
He said his teenage client gave permission to share non-identifying details, in response to the recent de-platforming of the conspiracy theorist's work from major internet services.
"This is not an isolated incident," Shear wrote, using these snooping practices to promote his social-media consultation services for students.
If they don't want to be rejected by their desired colleges, applicants should ensure that "their web surfing history is not collected by an admissions committee," he said, citing reports that schools including Harvard are snooping on applicants' digital trails – even after they're accepted.
While Shear (left) declined to let The Fix talk to his client or know the name of the college, citing attorney-client privilege and "the terms of the settlement," he said it was "regularly recognized as one of the top schools in the country by publications that rank higher education institutions."
(He later clarified that his "deep dive digital review" of the admissions officer found that she also followed "political groups/causes that are known to be politically left on Twitter," not just politician Sanders.)
Shear raised the issue last year in a Baltimore Sun op-ed, noting that Harvard revoked offers to at least 10 prospective students after discovering their "inappropriate" comments online.
Another of Shear's clients – admitted to "one of the most prestigious universities in the world" – lost his offer and $250,000 scholarship over a Facebook "like" and emoji regarding the 2016 election, he wrote.
It's not just top colleges that are rejecting students for online comments. A student at Pitzer College informed the private California school in 2012 that a prospective student had posted "offensive comments" about a high school teacher on Facebook. They were only visible to the student's friends – including the Pitzer student.
The dean of admission told The New York Times that the college rejected the prospective student because of those private comments: "We thought, 'This is not the kind of person we want in our community.'"
Rather than add her coach as a friend on Facebook, an ice-hockey player at Maryland's Stevenson University quit the team, according to a video shared by Shear.
The federal bill that Shear helped draft would have banned employers, colleges and graduate schools from requesting or requiring login credentials for social networking accounts from applicants, or threatening to take action against them for refusing.
Colleges are "digitally monitoring their students and creat[ing] robust digital dossiers of non-academic information on students," Shear told The Fix, and he wonders what they're doing with it: "Who are they sharing this data with? Employers? Data Brokers? Insurance Companies? Law Enforcement?"
MORE: Harvard revokes admissions after 'sexually explicit' group chat
'The data we operate on are those the student has shared themselves'
One of the "Orwellian" services highlighted by Shear that helps universities track students, Capture Higher Ed, was featured in an Atlantic article last year.
It tells universities "what web pages were visited, how often, and what prospective students did before and after," based on a unique email link sent to prospective students or personal information they give the schools.
Asked how the service works and why Capture deploys it, Senior Vice President of Data Science Thomas Golden told The Fix that "Capture Behavioral Engagement" is a kind of software platform that has "been around since the mid-90s" but is newly applied to education.
When prospective students share information with the school, it gets matched in the Capture database with their "online profile." Capture is trying to learn what applicants are interested in order to present a more "customized experience," Golden said in a phone interview.
Capture couldn't be used to find out that a student was following Alex Jones on Twitter because the system "doesn't collect that type of information," Golden said: "It's only gathering information on what a student is doing on the college's website."
Golden's company is not among the technologies that follow people around the internet, he responded when asked how Capture would put people at ease about the privacy implications of its service.
There are "services out there that will scrape the web for data and information and match that to an IP address," he explained. "The data we operate on are those the student has shared themselves."
In his 16 years of working in admissions at higher education, Golden said he has never seen anyone go as far as scraping the web. Capture has policies that prevent employers from looking someone up on Facebook or googling them.
Asked what he thought about Golden's comments about presenting a more customized experience to prospective students, Shear called it "code for surveillance and discrimination."
"I don't know of any applicant that will freely share their FINSTA [fake Instagram] accounts or web surfing history with a college admissions office," the lawyer told The Fix:
Capture's software (and their competitors) helps colleges reject applicants and discriminate based upon non-academic related data that should not be part of the college application process. Since when did it become acceptable … for an admissions committee to track how many times an applicant visits financial aid or the school's College Republicans/Democrats/LBGT/etc?
Higher education trade groups did not want to talk about the use of social media in admissions decisions.
The American Council on Education, which represents university presidents, did not respond to multiple requests from The Fix. The Association of American Universities suggested contacting the American Association of Collegiate Registrars and Admissions Officers because that group is "far better positioned" to help. AACRAO told The Fix in an email that it had no comment "at this time."
The National Association of Scholars and American Council of Trustees and Alumni did not reply to multiple requests from The Fix. Neither did media relations for InfoWars, the Alex Jones website.
MORE: From starting a conservative student group to crusading for privacy
IMAGE: Super Deluxe/YouTube, Shear Law, Capture screenshot
Like The College Fix on Facebook / Follow us on Twitter