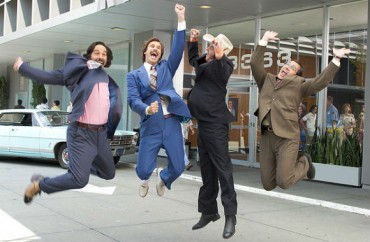 Wordy, impractical phrases are generally preferred
Most universities just give celebrities honorary degrees, but three years ago, Emerson College actually renamed its School of Communication after the mustachioed blowhard Ron Burgundy from the Anchorman movies.
The occasion was an appearance by actor Will Ferrell as his Burgundy character to promote the second installment of the series. (Emerson also offers a comedy minor.)
Some things have changed since then – the School of Communication is no longer prefixed by Burgundy (it was a one-day stunt), and Emerson College now has no tolerance for the word "anchorman."
MORE: You can minor in comedy at Emerson College
Campus Reform reports that the school's Guidelines for Inclusive Language now forbid the use of "anchorman" among many other "man" constructions:
Community members should avoid using language that is insensitive to cultural differences or that excludes or offends any group of people (based on their ability/disability, age, ethnicity and race, gender, gender identity and sexual orientation, etc.). Ask yourself whether it is appropriate to your communication to share a particular fact about a person (pertaining to social identity, e.g., age, ethnicity). In some circumstances, a person's or group's social identity will be irrelevant to what you are communicating, while in other circumstances it will be a very important part of the context.
It is apparently never contextually important to refer to someone as a "man" who helms a broadcast, even if he has a comically large mustache like Burgundy. Here are the other anti-"man" rules:
Artificial not manmade

Business executive not businessman

Camera operator not cameraman

Chair not chairman

Guard or staff not man (v.)

Humanity not mankind

Layperson not layman

Police officer not policeman

Spokesperson not spokesman

Workforce not manpower
MORE: Student becomes 'His Majesty' on official campus roster
Other rules:
Use the slang terms for homosexuals (gay and lesbian) rather than the neutral term that literally makes them "gay and lesbian"

Use the politically loaded and wordy "historically underrepresented groups" or "people of color" rather than the neutral, simpler and factual "minorities," because unlike in America as a whole, "People of color are actually the majority in many large U.S. cities"

"Respect a person's chosen personal pronoun" (even if it's "His Majesty").
Campus Reform notes that a separate Emerson guide on gender inclusivity says failure to use the correct pronoun can "make them feel invalidated, dismissed, and alienated":
It is as if their very essence has been erased.
MORE: Universities teach gender fluidity as fact to college students
The rules get jumbled in the section on "Power-Based Interpersonal Violence," in keeping with the Guidelines' preference for wordy, awkward constructions.
Contrary to the practice of many college newspapers and "rape culture" activists in describing those who allege they were sexually violated as "survivors," regardless of any adjudication or credible threat to their lives, the rules state:
Survivor can be used if an individual prefers this term; however, it can also be considered negative in that it defines a person solely by an experience.
It also discourages using "victim" because it has a "negative connotation" (the same is advised under the section on "Abilities/Disabilities"). The preferred, reader-unfriendly construction:
person who has experienced power-based interpersonal violence
MORE: University spends $15k fighting 'non-inclusive language'
The guidelines show further muddling in how to deal with allegations. They advise avoiding words that "convey disbelief and bias" and suggest that "violence" is subjective ("When individuals share their experience of violence").
They suggest keeping "violence" in the forefront of allegations, adjudicated or not, "rather than dispute, quarrel, and love triangle, which minimize the violence."
Yet the very next rule says to use the term "reported" rather than "accused, claimed, and alleged, which [again] convey bias and disbelief." In fact, all those terms are neutral. A person who makes a claim is technically a claimant. Casually speaking, a person who makes an accusation is an accuser.
And finally, the Guidelines appear to be out of step with Latino activists. They say the gender-neutral construction of their ethnic identity is "LatinX," with a capital X, but the term is generally spelled "Latinx" with a lowercase x.
Read the Campus Reform report and the Guidelines.
MORE: UMich diversity chief to earn $385k a year
MORE: Activists attack very essence of Spanish with 'Latinx'
Like The College Fix on Facebook / Follow us on Twitter
IMAGE: Anchorman screenshot