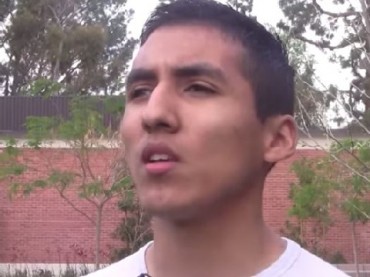 There are a lot of problems at Cal State University Long Beach. Parking is a nightmare. Many classes are overcrowded. Resources are spread thin as talk of hiking tuition rates looms.
Yet in the midst of these cash-strapped times, the campus recently launched a "Dream Success Center," which aims to help undocumented students get a higher education with the help of taxpayer dollars.
One College Republican student leader at the school is taking a stand against that decision.
Cal State University Long Beach College Republican Chairman Nestor Moto, Jr., recently voiced objections to the new center. He says the public money used to fund the initiative should instead go to causes that help the campus as a whole, such as shrinking overcrowded classes or offering more counselors for all students.
While he lobbies to get the center closed, some have ridiculed Moto and pledged to fight back. Others have accused the young Republican student of being misguided in his efforts.
The Dream Success Center, which opened March 9 at the public university, gives undocumented students access to a vast amount of resources, ranging from academic advising to help with securing student loans and financial assistance referrals. Its
mission is "to empower scholars who are undocumented in their pursuit of higher education and foster a supportive campus community dedicated to their educational and personal success."
The cost to run the center, which is staffed with a full-time coordinator to help the school's 650 undocumented students, is nearly $80,000 a year, The Daily 49er campus newspaper reports. The renovation to prepare the space also cost about $16,000, The 49er reported.
Moto told The College Fix in an email interview that money has been misspent.
"We have 10 advising centers and that is who the money should have been allocated to," Moto said. "I emailed the university's president and she stated that the advisors are able to assist all students. However, this center was specifically built for these individuals, while everyone else is stuck with the resources available to them."
When Moto initially spoke out on the center, he voiced concern that the school did not have counselors for veterans, telling Fox and Friends: "We have 530 veterans on our campus and we have zero counselors available to them. The undocumented immigrants, they have one counselor available to them."
"That's the main issue, the fact that the faculty and this administration wanted to allocate the resources and the funds to illegal immigrants instead of our veterans, instead of our disabled students, instead of our actual students that paid taxpayer dollars for this."
The school does in fact have a veteran's resource center staffed with four workers to help the school's 530 veterans, The Daily 49er campus newspaper reports. Moto stresses, however, that the money should be allocated to campuswide initiatives, not undocumented students.
But that position is not universally popular on campus. On a CSULB Facebook group, one peer called Moto's comments "disgraceful," adding "Mr. Moto should remove himself from this group for his dishonest attack on CSULB as it dishonors the discipline of political science … lying about the legal status of fellow student's citizenship to falsely attack our university in order to build up his own notoriety shows a severe lack of integrity on Mr. Moto's part."
Another suggested Moto is just "spreading his agenda." A third student put it more bluntly: "F*ck his racist, Republican, white supremacist ideology guiding his vision." The same student also went on to argue that "migrant peoples pay taxes everyday through purchases, rent, etc."
A comment on The 49er's Facebook page by another CSULB student agreed that Moto's efforts are misplaced.
"The least we can do for our fellow community members here at CSULB is to provide a resource that makes their lives just a tad bit less complicated until this country wakes up and realizes that its undocumented population is deeply ingrained into American society rather than try to wish them away," the student posted.
It's an argument that has resonated at other campuses as well. CSU Fullerton, CSU Los Angeles, and CSU Northridge reportedly have similar "dream centers."
The California Dream Act, or AB 540, allows undocumented students to have in-state college tuition as well as benefit from resources such as this Dream Success Center. The act's in-state college tuition affects public schools in the California State University system and the University of California system.
There are roughly 6,400 undocumented students at Cal State University's 23 campuses, reports the Press Telegram.
"Many undocumented students have been brought to this country as children, and in many cases, are not aware that they are in the U.S. without a valid immigration status. These students have struggled historically to enroll in colleges and universities across the country. Since 2001, in California undocumented students who meet certain eligibility requirements have been able to enroll in public in-state tuition. In 2011, the California Dream Act was enacted into law permitting eligible undocumented students to benefit from state financial aid," says the CSULB center's website.
College Fix reporter Austin Yack is a student at UC Santa Barbara.
Like The College Fix on Facebook / Follow us on Twitter
IMAGES: Internet screenshots