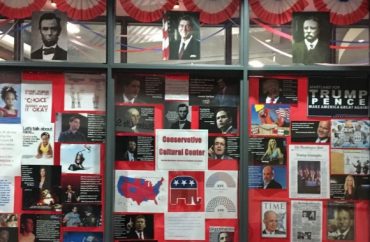 The College Republicans at a small liberal arts college in Maryland have been cleared of any wrongdoing for their controversial display that garnered criticism from peers for including quotes that highlighted the black abortion rate and the mental instability of transgender people.
The display, put up by the Republican group at Hood College in mid-April to generate debate and discussion, was investigated by campus authorities for possibly violating campus policies.
But the investigation has concluded and the club has been cleared of any wrongdoing, its President Christopher Gardner told The College Fix in a phone interview late last week.
"To hear that we weren't receiving any sanctions, it was a relief," Gardner said. "We [College Republicans] all thought the entire situation was kind of ridiculous, but it did fulfill the purpose of the board. It spread conservative messages, and that's what we set out to do."
Quotes in the display that drew the ire of peers included one from firebrand conservative pundit Ben Shapiro: "Transgender people are unfortunately suffering from a significant mental illness, and it is not a solution to pretend that transgender people are the sex that they think they are in their head. Biology is biology; men can't magically become women and women can't magically become men."
Other quotes that garnered criticism were "The most dangerous place for an African-American is in the womb" and "Let's talk about race … abortion is the number one killer of black lives in the United States."
The display also included pictures and quotes from Ronald Reagan, Abraham Lincoln, Marco Rubio, Antonin Scalia, Andrew Breitbart, Ann Coulter, Rush Limbaugh and others. The display touted a Trump-Pence "Make America Great Again" election sign, and a map of the Nov. 2016 electoral college covered mostly in red. Another print out stated "Since Roe V. Wade was decided by the Supreme Court, 59 million plus babies have been aborted. This makes it the largest genocide in the human history." One image of President Obama had turned his famous "Hope" slogan into "Nope."
"[T]o many, this display is being seen as hateful, transphobic, and misogynistic. Many students are quick to point out that Hood should not be condoning this kind of rhetoric and that it should be taken down," reported the Blue and Grey campus newspaper, adding many students called the display "hate speech" and "discrimination."
MORE: College Republicans could get punished for 'hateful' display that quotes Ben Shapiro
In the end, campus officials appear to have sided with the College Republicans' right to put up the display — which had been inspired by previous displays about transgender and pro-choice awareness put up by Hood College's LGBT club and Feminist Student Union, the Blue and Grey reports.
Hood College spokeswoman Laurie Ward declined to comment on the specifics of the case, telling The College Fix via email that "we will not comment on any student judicial matters, regardless of the outcome."
But she added "we are happy with the outcomes of this matter in the way it created dialogue and brought the community together."
Gardner said the display generated a ton of debate — including two campus forums — and helped advance conservatism at Hood. He said the College Republicans faced a few instances of harassment, but despite that the overall effort was a success.
During one campus forum in late April the College Republicans fielded questions and concerns from their peers.
"When you're saying that transgender people are mentally ill, you're threatening their livelihood," Gabrielle Cavalier, a senior at Hood and the vice president of the Hood College Democrats, told the group at the meeting, according to the Frederick News-Post.
"When you say that abortion is genocide, you're calling any woman who gets an abortion a murderer," Cavalier continued.
Jeremiah Ratliff, a senior at Hood, told the club the display represented a "cultural atmosphere here at Hood … I think people feel that there's homophobia and under-representation on campus — especially for transgender people, and among the Black Student Union — and this did nothing for them."
Gardner told The Fix he did not mind the pointed questions and criticisms he faced.
"The meeting we held was encouraging," he said. "The audience was overall very respectful, allowing us to truly debate ideas and convey our message to those who may not have much understanding of conservative principles…I think we may have reached some people."
A second public forum allowed students and faculty to take the stage and express their opinions on the controversy without retort, Gardner said, adding he didn't think much of this demonstration, describing it as "pointless" and "not beneficial."
Overall, however, "I think we gained some ground here," he said.
"I can see the campus going in the direction of allowing people to have free thought, as long as you aren't advocating for murder or something, of course," he said.
Gardner has since graduated from Hood College.
Like The College Fix on Facebook / Follow us on Twitter
IMAGE: Facebook
Like The College Fix on Facebook / Follow us on Twitter