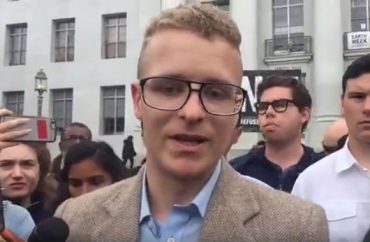 'Propaganda is the repetition of lies,' and chancellor is doing it
It's not about Ann Coulter, OK?
Representatives for the Berkeley College Republicans, one of two plaintiffs in a First Amendment lawsuit against the University of California-Berkeley, seemed exasperated by repeated questions about the anti-immigrant writer at a press conference Wednesday afternoon.
It was hours after Coulter, invited to speak on campus by the CRs and largely funded by the Young America's Foundation, had announced she was canceling her campus appearance because her sponsors bailed.
The CRs continued to blame the administration for refusing to honor the April 27 date Coulter was scheduled to appear, accusing campus officials of emboldening violent leftists by claiming they couldn't protect attendees at a Coulter lecture.
"Violent anarchists and other groups are allowed on campus freely" but the university refuses to give conservatives a platform to share their ideas, CRs President Troy Worden told reporters.
"The lawsuit is not about Ann Coulter," said Harmeet Dhillon, the lawyer for the plaintiffs. "It could last for months, it could last for over a year," and it may seek to establish a nationwide precedent that would bind other campuses, she said: "This is the long game that we're playing."
Asked about Chancellor Nicholas Dirks' claim that the CRs sprung the April 27 date on the administration with little notice, Dhillon replied: "Propaganda is the repetition of lies."
The university gave well-placed indoor facilities with security to "other people who are of a controversial nature," including the former president of Iran, Mahmoud Ahmadinejad, Dhillon said.
The lawyer pointed to a letter she sent the university's lawyer Wednesday morning, in response to his request for where and when Coulter was planning to speak Thursday.
He had claimed the university could provide a "very robust police presence" to Coulter if – as rumored – she spoke in Sproul Plaza, the symbolic home of the Free Speech Movement.
"I find the University's position insincere, hypocritical, and wholly at odds with the University's repeated public statements this week, which bemoan the University's purported inability to secure safety" if Coulter were to speak on Thursday, Dhillon wrote.
Dirks had told the community minutes before the lawyer's email to Dhillon that the university couldn't protect students from activists on "the extreme ends of the political spectrum," and yet he still said the administration would "welcome" Coulter to speak in Sproul, according to Dhillon:
Despite our client's repeated requests over the last six weeks that the University provide a securable venue for the Coulter speech, including through my own attempts to work with your team to accomplish this in multiple phone calls and conversations yesterday, the University has refused to secure a venue for the event – offering instead only media-ready platitudes and obfuscation, which are not substitute for compliance with the First Amendment.
You won't let them advertise their own event
Dhillon told reporters Wednesday that she had a "multi-hour dialogue" with the university's lawyer Tuesday about different times to schedule a Coulter lecture, but she had emphasized they could not relegate her to a "lesser time, place and manner of speaking" because of her views.
The administration would subject Coulter to the same kind of rude heckling that Dhillon and her clients faced at the press conference as they tried to answer reporters' questions, Dhillon said.
She emphasized the administration never gave Coulter a specific room, only a "securable location." The CRs know from past experience that means an event they can't advertise that is a "shuttle distance away from campus."
The only people that would hear that event would be those who agree with Coulter, and the CRs don't want their speaker to engage with an "echo chamber," said Dhillon.
The threats of violence that prompted UC-Berkeley to cancel Coulter's lecture are "not sufficient" under First Amendment case law, Dhillon said: Only "an ongoing riot" can permit police to constitutionally cancel an event at a public institution.
Dhillon said she had talked to Coulter, "an old friend of mine," in the past day, and she was "frustrated" she couldn't give the lecture she had prepared.
But "the goal is much larger than Ann Coulter's speech tomorrow," the lawyer said. The law doesn't allow "masked antifa protesters" to threaten people at will, like they did during the Milo Yiannopoulos riots in Berkeley when city police "didn't lift a finger" to stop thugs.
Stop insulting the intelligence of my peers
Worden, the CRs president, emphasized his group would continue inviting conservative speakers to campus, including Coulter. "We have to take up the fight for free speech. The university has shown itself unwilling to do do."
It only pulled out of the Coulter event because UC-Berkeley failed to do its job, he said: "We don't want to set a dangerous precedent where the university can collaborate indirectly with anti-fascist groups" to shut down the CRs' events. He said anarchists were "attacking my friends" on the streets.
"We want to be the new Free Speech Movement on campus," Worden said.
He responded sharply to one reporter's question about whether Coulter rises to the university's "intellectual level."
Coulter is "certainly an entertainer, she's certainly a polemicist," but she also uses facts to make arguments about matters of public importance, Worden said.
It denigrates students at the crown jewel of public higher education to say they can't separate fact from polemics or they can't handle "engagement" with someone who "ruffles some feathers," he said.
Like The College Fix on Facebook / Follow us on Twitter
IMAGES: Melanie Woodrow/Facebook
Like The College Fix on Facebook / Follow us on Twitter