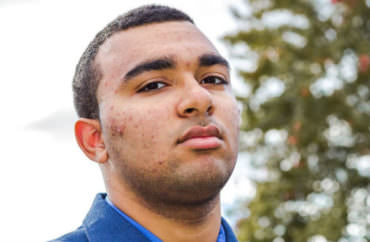 'Choking me by my camera strap,' thrown into the road
White nationalism is starkly opposed to the conservative vision of treating all people as individuals rather than identity groups.
Therefore, it was no surprise that a conservative student went to a vigil in memory of the young woman who was killed by a driver that plowed into a crowd of counterprotesters at Saturday's Unite the Right rally in Charlottesville.
It didn't matter that the downtown Syracuse vigil was hosted by the town chapter of Black Lives Matter.
Ithaca College student Caleb Slater, president of its College Republicans chapter, told The College Fix he knew he "would encounter many people that I did not agree with on most issues, but hoped that we could at least come together to combat and call out extremism in this country."
He wore a hat given to him by the Young America's Foundation "to show that conservatives and progressives can both agree that the alt-right pose a threat to the Western World," Slater wrote in an email.
Progressives evidently didn't want his agreement. They preferred a foil to an ally.
And they assaulted him, as documented on a brief video he managed to capture before "one of the thugs managed to shut off my camera."
MORE: Cornell CRs president assaulted, called 'racist bitch'
According to Slater, members of the shadowy militant-left movement known as Antifa approached him an hour into the vigil, "calling me all sorts of expletives, grabbing me by the clothes and choking me by my camera strap":
Not a single person at the rally came to my aid and the group began chanting, "No Trump, No KKK, No Nazi USA, go away." The group of Antifa then proceeded to toss me into the road. Fortunately, no cars were coming, but the light was green at the time.
He doesn't know who his attackers were, because Antifa's modus operandi is hiding its adherents' faces so they can't be brought to justice for their crimes. They could be local college students, perhaps from his own campus. (Slater's fellow CR leader in Ithaca said she was shoved to the ground and called a "racist bitch" after the November election.)
Slater told Young America's Foundation that wearing the group's hat was "a symbol of peace" to show that "conservatives condemn the actions of the alt-right just as much as anyone else in our culture."
He was taking photos for the next episode of his Liberty Now show on public access television, a planned discussion of the common threads among radical Islam, Antifa and the alt-right, when he was recognized:
One of the girls from antifa, dressed in all black, began to shout me down and ask, "Are you with right wing media? Why do you have the fu**ing hat on? You're with Young America's Foundation?" I simply responded by informing them that I meant no harm and was peacefully assembling. She then proceeded to yell loudly, "We don't want you here." At this point I turned on my camera, because I did not know what they planned on doing to me. She got more aggressive and antifa supporters surrounded me, like a pack of wolves. One member tried to grab my camera, to which I latched hard to, so that they would not damage my personal property.
MORE: Cornell student assaulted for being Republican speaks out
Slater's pleas after they dragged him into the road – that he's a first-generation half-Dominican, half-black grandson of a civil rights activist – fell on deaf ears.
"More people began to chime in and yell, 'No Trump, No KKK, Nazi go away' over and over again":
I came to this event in peace, I came to this event to stand beside my fellow Americans to disavow bigotry and instead I became the victim of bigotry, an intellectual bigotry. I was not attacked for my words, nor my actions. … My crime was wearing a hat on public property and I was assaulted for it.
Slater said the vigil organizers apologized to him for Antifa's violence but essentially blamed him for wearing a hat that some people "interpret to be radical."
Because arguing for the Constitution and rule of law is perversely radical for the masked cowards who crack skulls and then slink away.
MORE: Bike-lock attacker at Battle for Berkeley alleged to be professor
IMAGE: Mitchell R. Straub/Facebook
Like The College Fix on Facebook / Follow us on Twitter