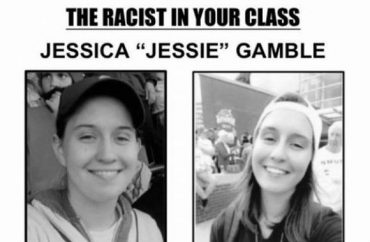 Critic publishes her phone number – and her dad's
Someone doesn't want the University of Washington chapter of the College Republicans to host free-speech crusader Milo Yiannopoulos for a campus event Jan. 20.
UWCR President Jessica Gamble found herself targeted by an anonymous flyer proclaiming her "the racist in your class" for hosting the "alt-right" gay Breitbart technology editor as part of his "Dangerous Faggot" college tour.
The flyer includes two photos of Gamble, as well as her phone number, email and social-media accounts. It also lists her father Steven's phone number.
"I had a feeling something like this might happen because of the nature of the event and how people were very angry, but I had no idea someone would actually make a flyer…so I guess that it was a bit shocking," Jessica Gamble told The College Fix in a phone interview.
UW President Ana Mari Cauce, who had previously asked the state attorney general if there was any way to ban Yiannopoulos from campus, took two days to acknowledge the threat against her student.
Flyer leads to legal action
Last week James Allsup, chairman of the Washington College Republican Federation, posted a photo of the flyer. (Gamble told The Fix she had received it in an anonymous email.)
It says UWCR leaders have "close friendships with Neo-Nazis and White Supremacists," citing Gamble's connection with "an open fascist and anti-Semite" in nearby SeaTac, identified as Jeffery Hughes. She even "likes" his "racist and transphobic [Facebook] posts," according to the flyer.
The flyer asks readers to tell Gamble and her father "what you think about" her connections, and concludes: "AN INFORMED PUBLIC IS A SAFE PUBLIC."
It includes a link to a web page that has since been taken down, though an archived version of the page includes a link to an Imgur page that shows Gamble is one of Hughes' 1,700-plus "friends." (Gamble remains listed as Hughes' friend as of Monday night.)
"UW's President, who has conveniently blocked me on Facebook, claims to care about the safety of her university's students, and has stated publicly that Milo Yiannopoulos' appearance on campus is a threat to that safety," Allsup, also the head of Washington State University's CRs, wrote in the post with the flyer.
MORE: Ohio students protest Yiannopoulos visit by 'Growing a Garden of Love'
"Does UW's diversity hire president care enough about student safety to comment on this flyer being disseminated on UW's campus that doxxes [maliciously publishes private information about] one of her students?" Allsup wrote.
In a comment on the post, Gamble asked if anyone could recommend Seattle-area lawyers "that specialize in defamation cases."
Gamble told The Fix the flyer has been traced back to the sender, a UW student and employee. She said she's seeking action against the sender through university channels, and is working with the campus police department and student activities office advisers, Phil Hunt and Rene Singleton.
"I've been in contact with a lawyer … we're working on how to approach this," Gamble said.
No 'sufficient grounds' to ban Yiannopoulos from speaking – yet
The Yiannopoulos event sparked a Change.org petition to "Ban Milo Yiannopoulos' hate speech," which has collected more than 4,424 signatures.
The petition calls Yiannopoulos a "renown bigot [sic] and misogynist" whose speaking gig at UW would violate campus policy against "discriminatory harassment." (A law professor was also recently punished by the University of Oregon for the "discriminatory harassment" of wearing blackface at her Halloween party.)
MORE: Milo appearance at NYU scrapped over 'security concerns'
The petition calls on UW President Cauce to "please make the right choice … and stand up for student safety and tolerance on campus" and against "this hatred" facilitated by UWCRs.
It was countered by a petition to "Allow Milo Yiannopoulos to Speak," with just over 700 supporters, asking Cauce to "stand up for student rights and a tolerance of a wide array ideologies and beliefs."
UW Associate Vice President Norman Arkans pointed The Fix to Cauce's post on the Yiannopoulos controversy.
Cauce initially explained that while she has received concerns from individuals, and she would not invite him to speak on campus, Yiannopoulos has a right to free speech.
"We have reviewed this event with the State Attorney General's office and there are not, at this time, sufficient grounds to ban him from speaking on our campus, although we continue to monitor what is going on as he speaks elsewhere," she wrote to the community Dec. 19.
MORE: LSU tries to stop Milo based on possible 'incitement of violence'
On Friday, Cauce's lengthy post was given a one-paragraph update in response to the flyer targeting Gamble.
"This is wholly inappropriate and once we learned of the flyer, we reached out to the affected student to offer assistance and support, including resources in the UW Police Department should she need them," Cauce wrote in the update.
"The flyer will be promptly removed if it is found on campus," said the president. "Harassment conducted by members of the UW community is unacceptable and subject to disciplinary action."
Gamble doesn't think the flyer will have impact on event attendance.
"I think the most anger will be directed at Cauce at the end of it because Milo came … when really it's not even her fault," she told The Fix: "She has a job to uphold the standards of a public university, and that is allowing free speech."
MORE: UC Irvine College Republicans sanctioned for Milo event
Like The College Fix on Facebook / Follow us on Twitter