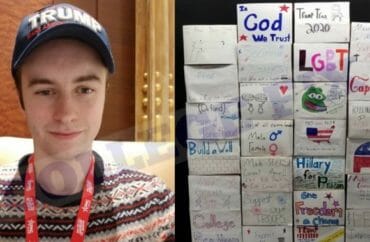 Mathias Eike wasn't even born in America, Norway is his home country.
Yet his dedication to the First Amendment of the United States Constitution is so strong he recently resigned as president of the St. Cloud State University College Republicans rather than apologize to progressive peers who became enraged over the group's free speech wall display.
The St. Cloud State University College Republicans' display included statements such as "Support our troops," "Marriage is between a man and a woman," "list of all existing genders: male, female," "In God We Trust," "killing babies is wrong," "Defund Planned Parenthood," "Build a wall," "Hillary for Prison," "Proud Deplorable Trump 2020," "Legal immigrants welcome," "Support the police," Pepe the frog saying "Feels great again, man," and other expressions.
It also contained a tiny image of a Confederate flag next to the words "Pro life, pro gun, pro America." Another small image had a comic strip that included the words "autistic screeching."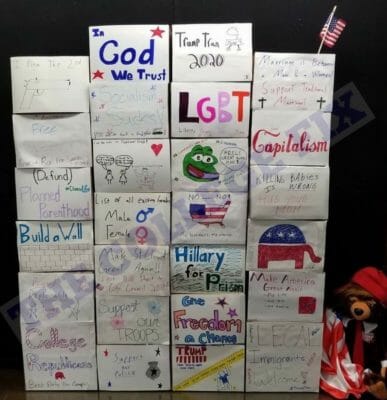 Some students became so upset by the free speech wall they accused the College Republicans of "hate speech" and "inciting violence" during a heated February campus meeting over it. But even after a parade of his peers took to the mic and accused Eike and other GOP students of hatred, the international student stood his ground.
"I don't feel like stepping back on free speech is the way to go," Eike, 21, told The College Fix in a telephone interview.
Eike left the meeting before it ended, and later other members of the St. Cloud State College Republicans apologized for not vetting the wall more carefully, and subsequently took it down.
Eike posted his resignation letter on Facebook shortly thereafter, saying: "Congratulations everyone, you finally got your way because you were loud, obnoxious, whiney c*nts. I'm resigning as president of the College Republicans because I want nothing to do with an organization that doesn't protect free speech and expression on campus," according to the University Chronicle, St. Cloud State's student-run newspaper.
When asked if he would take back any of these comments, Mathias laughed and told The Fix: "I would not. It's true."
Watch snippets from the meeting:
Meanwhile, Eike has connected with the Foundation for Individual Rights in Education to alert the free speech watchdog group of the situation at St. Cloud State.
"The student union held a meeting on the topic that can best be described as a trial. Students were shouting, standing, making thinly veiled threats, and making outrageous claims of what our organization is responsible for," Eike told the foundation in a Feb. 3 report.
"Members of the student body can be heard stating that they wish to chop my head off, and they issue indirect threats such as that they hear people conspiring to commit acts of violence against me. I have previously been struck in the face in a school building, surrounded by upwards of 60 people, just for wearing a MAGA hat. Members of my organization have had acts of vandalism happen to campaign material they have hung up in their dorm," Eike continued.
As for the contentious meeting, minutes of the Feb. 1 gathering show it took nearly three hours to get through the line of speakers voicing angst about the wall.
The wall had been created by the College Republicans as the group tabled during a student involvement fair in late January involving more than 100 campus groups. It started as an exercise in free speech, as students could decorate white sheets of paper any way they wanted.
No submissions were left out as the College Republicans subsequently connected all the papers together to create the "wall," then hung it behind a glass display case in a campus building, which was approved by administration.
Eike said it took less than an hour for a crowd to gather around the free speech wall. Videos on Facebook show students milling in front of the display, brainstorming how to protest it. Soon after, the student government hosted a townhall for students to voice complaints. Eike and fellow College Republicans were seated behind a table as a mob of angry students took turns confronting them.
Students called it "hate speech" and accused the GOP students and their display of "inciting violence," according to videos of the meeting posted on Facebook.
"Hate speech should not be covered under the First Amendment. It should not," one male student said as the crowd clapped in agreement.
"Hate speech invokes violence," he added. "So speech that invokes violence, is that covered under the First Amendment?"
The student got more animated after Eike refused to answer his question.
"Is speech that invokes violence, is that covered under the First Amendment," he called to the crowd? "No!" many answered back in unison.
"It's not," the student continued, before warning Eike: "Tread carefully … because we are a lot smarter than you think."
Other videos on Facebook captured additional parts of the meeting.
"The people involved in this are not Republicans, they're belligerents," one student said.
Eike said he heard one person in the gallery say "shut up, I'm going to chop his head off." He also said that while most people were civil, one professor came up to him and shouted "you should be ashamed of yourselves," while another student shouted at him to "go back to where you came from." Originally from Norway, Mathias is in the United States to study accounting.
One point of contention during the meeting was the quote about "autistic screeching" used in a comic strip sketch on the wall. Students accused the board of containing "ableistic" messages.
Eike defends the display against the crowd, saying "I don't want people to be afraid to speak because they are afraid of offense."
Some might wonder, "how I can possibly defend making fun of autism," he continued, referring to the panel with the words "autistic screeching" on it. Already met with boos and shouts of "get out," Eike goes on to explain that he has a brother with Tourettes Syndrome, and the best way for him to cope is to "make fun of it with his friends."
A video of the exchange posted on Facebook shows Eike continue to talk about his brother, "If everyone around him were too afraid to offend him… he would never…"
At that moment the video shows a woman from the crowd unplug his microphone, while yelling "there's a lot of bullsh*t going on here," which is met with loud applause.
Eike spends the next few minutes attempting to finish his point over the rowdy crowd, before he is escorted out amid jeers, such as one man's "f*ck Trump" echoing through the hall.
After more student speeches, with one girl announcing "I do not feel safe," the Vice President of the College Republicans apologizes and says the display will be taken down immediately.
A subsequent message by the GOP students on their Facebook page added: "The leaders of College Republicans are sorry for this lack of judgement and we ask forgiveness. We should have made better judgement when it came to which boxes we allowed to represent our organization and the Republican Party."
More recently, the College Republicans at St. Cloud have erected a new display in the same display case. It contains a large cut out of President Trump, the American flag, and a huge copy of the U.S. Constitution.
Despite the wall being taken down and his resignation from the College Republicans, the battle, Eike feels, had not been lost: "There's so much light in the darkness, and we're turning minds one by one."
As for apologizing for the display, Eike is unmoved.
"I have never said sorry for it," he said.
VIDEO: Student swipes peer's MAGA hat, says 'f*ck your freedom of speech, boy'
Like The College Fix on Facebook / Follow us on Twitter