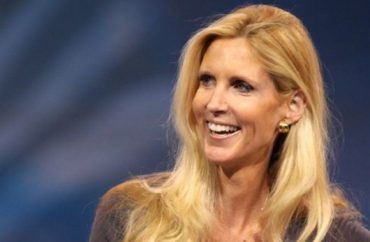 Seeking damages from UC President Janet Napolitano 
The University of California-Berkeley is "enforcing a recently adopted, unwritten and unpublished policy" that gives officials "unfettered discretion" to dictate how and where conservative groups can host events with "high-profile speakers," according to a new federal lawsuit against the university.
It was filed on behalf of the Berkeley College Republicans and Young America's Foundation, which earlier threatened litigation if the school didn't honor its prior agreement to let the anti-immigration writer Ann Coulter speak on campus Thursday.
UC-Berkeley had unilaterally offered Coulter a revised speaking date of May 2.
The lawsuit said the university has no definition of "high-profile speakers," and thus its unwritten policy can be applied any way that officials want, "resulting in the marginalization of the expression of conservative viewpoints on campus by any notable conservative speaker."
The plaintiffs are especially incensed that UC-Berkeley has imposed "curfew and venue restrictions" on their speakers, just this month, that seem intended to limit the audience that can attend.
Nice day for an outdoor speech at Berkeley. https://t.co/PlbOP8YcDj

— Ann Coulter (@AnnCoulter) April 24, 2017
MORE: Faced with ridicule from left and right, UC Berkeley will let Coulter speak
They canceled an appearance by conservative activist David Horowitz when the university forced him to speak before 3 p.m. a mile from the center of campus:
Defendants freely admit that they have permitted the demands of a faceless, rabid, off-campus mob to dictate what speech is permitted at the center of campus during prime time, and which speech may be marginalized, burdened, and regulated out of its very existence by this unlawful heckler's veto.
The lawsuit is seeking not only an injunction against UC-Berkeley "to prevent Defendants from continuing to muzzle Plaintiffs' constitutionally-protected speech," but also damages against each individual defendant.
They include UC President Janet Napolitano, UC-Berkeley Chancellor Nicholas Dirks and vice chancellors, and UC system and Berkeley-specific law enforcement officials.
YAF said in a press release Monday:
"It is unfortunate that the very school that is considered the 'birthplace of the Free Speech Movement' is now leading the charge to censor thoughts, ideas, and debate. The University of California, Berkeley's selectively applied approach to 'free speech' is unacceptable.," said Ron Robinson, President of Young America's Foundation.

The Constitution demands more of state school administrators and officials.
Read the lawsuit and release.
MORE: Berkeley Republicans stay strong, active despite repeated attacks against them
Like The College Fix on Facebook / Follow us on Twitter