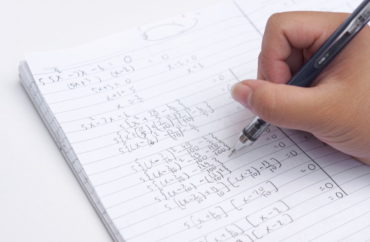 A hearing officer at a Nevada community college has ruled against a professor who says the school is trying to fire him for standing against weakening math standards.
In a report issued November 12, Truckee Meadows Community College Special Hearing Officer Vicky Oldenburg found that math Professor Lars Jensen violated several school codes when he protested a new curriculum structure that essentially allows remedial math classes to count for college credit.
The report brings Jensen one step closer to being fired with cause.
The report will now go to a faculty panel that will vote and write up its own recommendation. College President Karin Hilgersom will issue a final decision once she receives both reports.
"We are very disappointed with the conclusions and recommendations in Special Hearing Officer Oldenburg's report," Jensen said in an email to The College Fix. "We feel that her report ignored longstanding state and federal precedent protecting faculty speech and academic freedom."
Jensen, who has been a professor at Truckee Meadows Community College for 22 years, told The Fix that Oldenburg's report ignored guidelines set for faculty speech in previous decisions handed down by the Nevada Supreme Court and federal Ninth Circuit Court of Appeals.
"This follows a dangerous pattern at TMCC," Jensen said. "It further underlies the importance that faculty disciplinary panels be subject to outside binding arbitration, which unfortunately is not available at TMCC."
A spokesperson for Truckee Meadows declined a request by The College Fix for comment.
Jensen has specifically accused the school of engineering poor performance reviews as an excuse to remove him from his position.
In two recent years he received a review of "excellent" from his department chair, but he nevertheless received unsatisfactory reviews from Julie Ellsworth, his dean.
In one poor performance review, Ellsworth specifically mentions a flyer Jensen had passed out at a math summit criticizing the school's eroding math standards, charging him with "insubordination" for continuing to hand out the flyer after he was asked not to.
Oldenburg's report rules that Jensen's flyer violated school codes.
While she noted Jensen remained "polite and professional," she nonetheless determined he engaged in "insubordination" by "willfully disregarding Dean Ellsworth's directions and interrupted the Math Summit by intentionally and without authorization distributing his handout during the Summit."
Oldenburg ruled Jensen's academic freedom and right to free speech were "not censored in any way" because he was allowed to make his flyer available after the conference.
The Foundation for Individual Rights in Education has submitted a letter to the college that argues Jensen's distribution of flyers at the board meeting was protected by his First Amendment right to comment as a citizen on matters of public concern, and that the school cannot use it as grounds for termination.
In some cases, Oldenburg found that Jensen had not violated the school's codes, as the school charged.
For instance, Jensen refused to change a syllabus in which he explained to students they were prevented from taking the final exam if it would make no difference in their passing the class.
Eventually, Jensen allowed students to take the exam, but according to Ellsworth, he changed the rules to be even "more punitive" because he wouldn't allow them to "benefit from any potential points this might generate."
Oldenburg found that Jensen had complied with Ellsworth's "directives to alter his syllabus" and therefore his conduct did not support a charge of insubordination.
Nonetheless, Oldenburg's report lists one instance justifying a charge of insubordination on his 2019-20 performance review (the math summit imbroglio) and three instances listed on his 2020-21 performance evaluation that violated his Annual Plan, and two instances that justified a charge of insubordination.
In Jensen's 2017-18 performance review, Ellsworth had written that he is "recognized for his disciplinary knowledge, his passion for math, for being nice, and for caring about students."
Yet on his 2020-21 evaluation, his new dean, Anne Flesher, said he "demonstrated a consistent pattern of defiance and disrespect by his refusal to apply repeated directives and not responding to the dean's requests in a timely manner."
ALERT: Check out our new Campus Cancel Culture Database!
IMAGE: Shutterstock/wk1003mike
Like The College Fix on Facebook / Follow us on Twitter