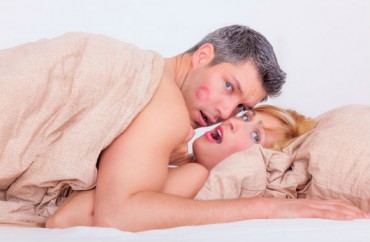 'Effective' equals 'affirmative'?
A sexual-consent policy that tells both partners they need each other's consent means the same thing as a policy that forces accused students to prove they obtained consent, according to Williams College.
The Massachusetts liberal arts school asked a federal judge to dismiss a lawsuit by a student that it found responsible for sexual assault. "John Doe" is suing to get his diploma from Williams.
The Dec. 22 motion to dismiss says the school followed its Title IX procedures faithfully in adjudicating the dispute between Doe and his partner "Susan Smith," whose troubled relationship continued after she became a Williams employee.
The filing cites legal precedent in contract law that favors private colleges, as well as the federal obligation to investigate rape claims by all colleges that take federal funding.
MORE: Amherst plays down damning text messages by rape accuser
Doe's scheduled graduation in June was suspended pending the results of a Title IX investigation initiated by his ex-lover, who allegedly accused him of rape only when she feared he would get her fired.
In November, a panel of three administrators found Doe, who is Ecuadorian American, responsible for sexual assault. The panel cited an incident from September 2014 where Doe allegedly failed to obtain "affirmative consent" – a policy that took effect after the incident.
The report appeared to take as fact statements from witnesses who heard the story secondhand from Smith, Doe's suit alleged.
Latest filings in the Williams due process case, where even unsympathetic students deserve a fair process:https://t.co/tseJokd6aY

— KC Johnson (@kcjohnson9) January 1, 2017
We need 'considerable deference'
Williams says Doe failed to show he was a victim of gender-based discrimination, calling his allegation of anti-male bias "patently implausible." Doe had claimed women at Williams rarely "face charges of sexual misconduct."
The college calls perceived gender bias "merely a product of the complaints that Williams receives" and not an indication of actual bias. Its filing says two of the three panel members tasked with investigating Doe were also male.
While Williams followed its policies and procedures faithfully as a private college, the motion says, Williams should be given "considerable deference" to interpret its rules as it believes prudent.
The college says it is obligated by federal law to investigate all sexual assault claims thoroughly: "Indeed, engaging in such disciplinary activities, at least with respect to student conduct that implicates Title IX, is now a mandated part of the College's mission."
MORE: Feds tell colleges they can deny students due process
Conciliatory emails between Dean of the College Sarah Bolton and Smith were not evidence of collaboration as Doe alleges, according to the filing: Bolton was only "assisting Smith in gathering information for the honor code hearing and keeping her apprised of the process."
Doe alleged that Smith's Title IX complaint against him was in retaliation for Doe's own Title IX complaint against her last year, after they had broken up.
@kcjohnson9 Under the sets of rules the DOE has created, colleges are obliged to litigate every acrimonious breakup between students.

— Daniel Friedman (@DanFriedman81) January 2, 2017
After he was excluded from a dance that his ex was attending, Doe filed a complaint against Dean Bolton.
He claimed Bolton had "discriminated against John in part because of his gender" by instituting a no-contact order between Doe and Smith in April, requested by Smith, and for barring Doe from attending a dance that Smith had organized.
"[T]he fact that Doe was asked to refrain from participating in a single dance competition is not a cognizable depravation [sic] of an educational opportunity," Williams' motion says.
It calls "merely speculation" Doe's claim that the charges against him were retaliation.
'In other words,' he needed affirmative consent
A code of conduct that was revised after the September 2014 incident at the heart of Doe's punishment had no bearing on Doe's case, Williams claims.
Though the new code requires all participants to obtain "affirmative consent" from each other, its old code essentially required the same thing, the motion says.
"Thus, assuming for the sake of argument that the [hearing] Panel applied the newer version of the Policy, there was no substantive difference from the old version," the filing says. "Both required 'effective consent,' which requires 'words or conduct [that] clearly indicate freely given approval or agreement' – in other words, 'affirmative consent.'"
MORE: Amherst showed 'startling indifference' to truth in 'blacked out' rape case
The old policy emphasized that "both participants" must give their consent "at the time of sexual contact," and both "have the obligation to communicate consent or the lack of consent."
The new policy changed "both" to "all" participants, while adding "affirmative consent" to the requirement: "In the absence of affirmatively expressed consent, sexual activity is a violation of the code of conduct." It does not define affirmative consent.
Doe's suit might be altogether flimsy if the court follows state precedent, the motion says.
"[C]ourts in Massachusetts consistently have held that colleges do not owe their students any general duty of reasonable care," it says, "and in particular that colleges do not owe their students a duty of reasonable care in the administration of student discipline."
It asked the judge to dismiss the case with prejudice, meaning Doe can't bring an amended lawsuit.
"Based on the filings to date, the parties in this case are not particularly sympathetic," KC Johnson, a history professor at Brooklyn College who closely follows due-process litigation by accused students, wrote on his blog Sunday.
"But even unsympathetic students are supposed to receive a fair process."
MORE: Brown says unwritten consent rule was on campus posters
MORE: Rape accuser ruined student's life because he liked her friend
Like The College Fix on Facebook / Follow us on Twitter
IMAGE: altafulla/Shutterstock