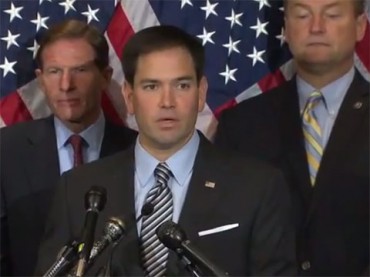 A bipartisan Senate bill introduced Wednesday seeks to combat instances of sexual assault and violence on college campuses across the nation.
It comes at a time when 55 universities and colleges are under federal investigation for possible violations of the law detailing the handling of sexual violence and assault allegations, according to a report issued by the Department of Education in May.
Victims advocacy groups hailed the legislation, but a civil-liberties group that frequently targets colleges for alleged due-process violations against accused students said the bill was missing needed safeguards for the accused.
The Campus Accountability and Safety Act was announced at a press conference on Capitol Hill by sponsoring senators, sexual assault victims and victim advocacy organizations.
Cosponsors of the bill include Sens. Claire McCaskill, D-Mo.;  Marco Rubio, R-Fla.;  Dean Heller, R-Nev.;  Richard Blumenthal, D-Conn.;  Chuck Grassley, R-Iowa;  Kirsten Gillibrand, D-N.Y.;  Kelly Ayotte, R-N.H.;  and Mark Warner, D-Va.
The bill is "taking aim at sexual assaults on college and university campuses by protecting and empowering students, and strengthening accountability and transparency for institutions — including establishing stiff penalties for non-compliance with the legislation's new standards for training, data and best practices," according to a statement from Rubio's office.
"This bill represents a rare thing in Washington—a truly collaborative, bipartisan effort—and that bodes well for our shared fight to turn the tide against sexual violence on our campuses," McCaskill said in a press release.
The senators published a fact sheet outlining key aspects of the legislation, including guidelines for campus officials on how to deal with victims of sexual crimes and more stringent punishments for universities that fail to report or investigate such instances.
Institutions of higher education would be required to have confidential advisers "to coordinate support services and accommodations for survivors," in addition to a minimum training standard for these advisers "so that they have a firm understanding of the nature of these crimes and their effect on survivors."
Another component of the bill would require a database of sexual assault incidents compiled from a survey of students nationwide, the fact sheet said.
"Students at every university in America will be surveyed about their experience with sexual violence to get an accurate picture of this problem," according to the fact sheet. "This new annual survey will be standardized and anonymous, with the results published online so that parents and high school students can make an informed choice when comparing universities."
Further, the legislation would increase penalties against universities that violate regulations set forth in the Clery Act, which mandates that schools that receive federal financial aid must report incidents of crime on and near campus for publication in an annual national database.
"Schools that don't comply with the certain requirements under the bill may face a penalty of up to 1% of the institution's operating budget," the fact sheet said. "Previously, the only allowable penalty was the loss of all financial aid which is not practical and has never been done. "
Instead, the bill would increase penalties for noncompliance with the Clery Act to $150,000 per violation from the current rate of $35,000.
The act would institute a uniform response campuswide to allegations of sexual violence.
"All schools will now be required to use one uniform process for campus disciplinary proceedings and may no longer allow athletic departments or other subgroups to handle complaints of sexual violence for members of that subgroup alone," the fact sheet states.
The legislation "will help victims and help reduce the number of violent assaults," Scott Berkowitz, president and founder of Rape, Abuse and Incest National Network, the nation's largest anti-sexual violence organization, said in a press release issued to The College Fix.
It will "give more victims an opportunity for justice" as well as "stop the practice of letting athletic departments investigate allegations against their own players," Berkowitz said.
The Foundation for Individual Rights in Education, which has stepped into disputes such as Occidental College's expulsion of an accused sexual assaulter who then sued the school for due-process violations, said the bill has shortcomings.
The bill does not "contain provisions to safeguard the due process rights of accused students," the group said in a press release. "Campus disciplinary systems lack both the procedural safeguards necessary to protect the accused and the power necessary to properly punish those found guilty of heinous crimes."
Despite certain criticisms of various elements of the bill, Rubio said at the press conference the bill is a good point to begin addressing sexual assault on college campuses.
"Now no bill is going to solve every problem in the world, [but] ultimately, as a society, we must do a better job of condemning this, in every facet, everywhere it rears its ugly head," Rubio said.
"But I do think it does a tremendous job of advancing the cause forward by creating a uniform system of where every single victim and every single instance is treated the same."
College Fix contributor Julianne Stanford is a student at the University of Arizona.
Like The College Fix on Facebook / Follow us on Twitter
IMAGE: YouTube screenshot