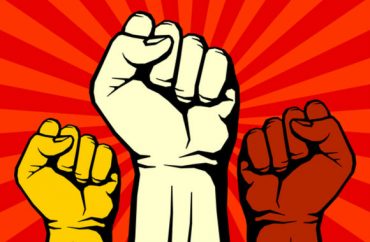 Aim your fireworks at campus buildings
NEW YORK – "Get involved in the upcoming revolution!"
That's what a Columbia University student was telling passers-by on campus Monday as he handed out flyers for a Thursday event calling for a new socialist order in response to Donald Trump's presidency.
If the "revolution" indeed started on Thursday, it amounted to gushing over how much political violence can accomplish for socialism.
The Barnard-Columbia Socialists, which includes students from Columbia and its sibling women's college, used Monday's daylong campus protests and demonstrations against Trump's executive order on immigration to promote their similar event, "The Case for Socialist Organization."
The socialists' flyer called for students to "Unite!" and fight Trump "to defend immigrants from deportation, safeguard abortion and reproductive rights, stand up against racist police violence, protect public education, preserve our unions, and save the planet."
Resist the 'pleasures of capitalism'
Its stark rhetoric apparently worked, because the Thursday event's meeting room – a small classroom typically reserved for seminars – was packed. Students who arrived late had to sit on the floor or stand.
The open-forum discussion meant that anyone could raise a hand and bring up any topic they wished, but the purportedly anti-Trump meeting turned into a miscellaneous discussion of socialist and communist tactics.
Many attendees questioned whether previous activism against Trump and his boosters, including anti-feminist provocateur Milo Yiannopoulos, had been violent enough to stop the "racist" and "anti-gay" president from turning into a fascist dictator.
Several students chuckled when another said that aiming fireworks at campus buildings was effective, apparently referring to Yiannopoulos's scheduled Wednesday appearance at the University of California-Berkeley. That administration canceled the event in the face of widespread violence and property destruction by alleged non-student protesters who set off fireworks, threw bricks and even pepper sprayed a Trump supporter.
And amid raucous protests to stop his appearance at the University of Washington several days earlier, one person in the crowd got shot in the stomach.
Thursday's Columbia meeting had a distinct anti-capitalist air. Participants not only discussed how to organize more effectively, but warned each other to avoid the "pleasures of capitalism" and denounced the "racist Electoral College" that delivered the presidency to Trump.
One unidentified student said the end goal was the "transition to communism."
The discussion wasn't a surprise given the Barnard-Columbia socialist group's official webpage:
War, poverty, exploitation and oppression are products of the capitalist system, a system in which a minority ruling class profits from the labor of the majority. The alternative is socialism, a society based on workers collectively owning and controlling the wealth their labor creates.

We stand in the Marxist tradition, founded by Karl Marx and Frederick Engels, and continued by V.I. Lenin, Rosa Luxemburg and Leon Trotsky.
In the spirit of this endorsement, the meeting room chalkboard displayed a misspelled quote attributed to the communist leader Lenin: "There are decades where nothing happens, and there are weeks when decades happens."
'It's kind of like when you throw a tantrum'
Like the socialists who canvassed there, participants in the Monday campus protests also saw a bigger threat to America than the plain words of Trump's immigration executive order would suggest, to say nothing of Trump's decision to keep a pro-LGBTQ executive order from his predecessor.
Most declined to talk to The Fix about why they were protesting, and what bothered them about a temporary pause in accepting certain immigrants to improve vetting systems.
"If you do the research, no country that [Trump] has put a ban on … No immigrant or refugee from there has been the result of a terrorist attack," a student who identified himself as Lucky Schreiner told The Fix. "It seems like a bad solution to what may or may not be a problem according to the different sides … He's just trying to appease his voters and keep promises."
The seven Muslim-majority countries targeted by Trump's order were named in a 2016 law, during the Obama administration, as "countries of concern" regarding immigration visas.
Another observer related a conversation he overheard as a father and young son passed the protesters.
"The kid asked what a protest was, and the dad said, 'it's kind of like when you throw a tantrum,'" the observer told The Fix, declining to identify himself.
"That just really stuck with me, and I think that person was totally right! At the end of the day, we used the democratic system we built to vote this man into office, and people can whine all they want to, but this system is in place for a reason, and so it's going to stand."
Like The College Fix on Facebook / Follow us on Twitter
IMAGE: MicroOne/Shutterstock