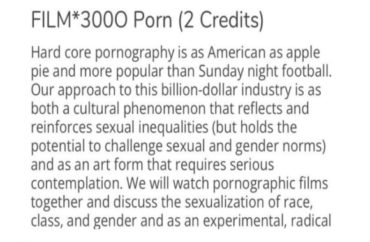 A class featuring pornography at a private college in Salt Lake City has drawn scrutiny, however a spokesperson for the school says campus leaders stand behind it.
"Westminster College occasionally offers elective courses like this as an opportunity to analyze social issues," a spokesperson for Westminster College told Fox News.
The campus media affairs division did not respond to a request from The College Fix seeking comment.
"As part of this analysis, Westminster College and universities across the county often examine potentially offensive topics like pornography to further understand their pervasiveness and impact," according to the university's statement. "Descriptions of these courses, while alarming to some readers, help students decide if they wish to engage in serious investigation of controversial subjects."
"This course will help students learn how to think critically about the influence of digital media culture."
The two-credit class is called "Film 3000: Porn." According to its description:
"Hard core pornography is as American as apple pie and more popular than Sunday night football. Our approach to this billion-dollar industry is as both a cultural phenomenon that reflects and reinforces sexual inequalities (but holds the potential to challenge sexual and gender norms) and as an art form that requires serious contemplation. We will watch pornographic films together and discuss the sexualization of race, class, and gender and as an experimental, radical art form."
A screenshot of the course description was shared widely on Twitter last week, promoting a Change.org petition to cancel the class, calling it obscene and arguing it does not have any educational value. As of Sunday evening, the petition had more than 1,500 signatures.
"The Supreme Court has defined obscenity as 'completely devoid of scientific, political, educational, or social value.' We agree. Pornography is devoid of educational value and has no place in the classroom," the petition states.
"In these classes, young students and teachers watch pornography together in a classroom. This creates an unsafe environment for students and faculty and normalizes pornography in culture. These are not Utah values and these classes have no part in the Utah education system."
But the course's instructor, Eileen Chanza Torres, told ABC news that the notion that students will be sitting around watching porn together is inaccurate, that they won't "watch porn, giggle, and go home."
Chanza Torres did not respond to a phone call from The College Fix seeking comment.
Chanza Torres told ABC news that porn is "a fascinating study of people and gender performance." Torres referred to herself as "sex positive and body-positive."
The college is also offering a course called "Sex on Film." The four-credit course studies "the evolution of sex in mainstream films through a selection of U.S. films from the late 1920s to our present time."
This isn't the first time that Westminster College has had sexual content endorsed. In 2018, there was a "condom fashion show" to raise awareness for "reproductive rights."
The vice president of Westminster's student government held a presentation that discussed sexual pleasure and claimed that "Nipples are for everyone," "Buttholes might be magic," and "The clitoris is key," Campus Reform reported.
MORE: Professor outlines syllabus for 'porn studies' course
IMAGE: Change.org screenshot
Like The College Fix on Facebook / Follow us on Twitter