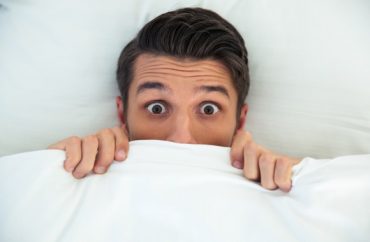 "I haven't slept in my room since the election."
That is the exact headline of an op-ed recently published in The Washington Post by Ian Ware, a sophomore at the University of Virginia studying foreign affairs and American studies.
Ware writes he's avoided his dorm and instead slept on couches, futons, floors and unoccupied beds in his friends' homes.
"At first, it came from a need to be with people who supported me and understood how scary this political moment is for young people who grew up under the liberal auspices of an Obama presidency and came of age politically in a time marked by progressive movements such as that of Sen. Bernie Sanders," Ware writes. "But after I went home for clean clothes to find an anti-gay hate message written on my door, right next to a set of stickers spelling out 'Vote 4 Hillary,' my couch-surfing took on new urgency. I was no longer searching for comfort from my peers — I was trying to preserve a sense of safety."
He basically goes on to cite a handful of other spray-painted mean words on campus and a UVA police officer who shouted "Make America Great Again" as the cause of all his fears, troubles and woes.
MORE: U. Virginia police officer shouts 'Make America Great Again,' forced to resign
"Now, U-Va. is failing its students," Ware goes on. "The university is tasked with creating an environment in which all students can learn from some of the most accomplished faculty in the country. It is not succeeding. Our students are among the best and brightest, but the administration seems to think that we won't recognize lackluster protection and response efforts for what they are: conciliatory at best, a dangerous precedent at worst."
Like The College Fix on Facebook / Follow us on Twitter
IMAGE: Shutterstock
Like The College Fix on Facebook / Follow us on Twitter