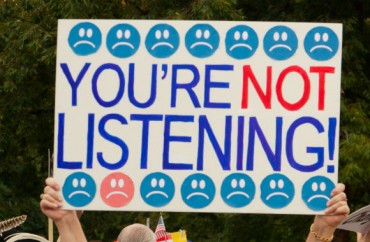 ANALYSIS
It started with a group of business owners trying to raise sales taxes without voter approval. It hit the skids when a lone college student ruined their carefully laid plans.
The entire experience has turned 23-year-old Jennifer Henderson from an apolitical University of Missouri student into a full-throated activist for the voice of the people against special interests, whom she felt intimidated her.
Last month the Columbia Daily Tribune reported that a snafu by members of the Business Loop 70 "community improvement district" (CID) left the future of a half-cent sales tax increase proposal in the hands of Henderson.
The Columbia city government went around the democratic process this spring by approving the CID at the request of property owners, The Columbia Missourian reported then.
Under Missouri law, property owners get to vote on property, business license and sales taxes only if no registered voter is present in the CID's boundaries. Owners in the Business Loop 70 CID gerrymandered the district lines to keep out registered voters near their businesses.
They spent a year and a half working on the CID, racking up more than $200,000 in debt in the process, before learning from the county clerk in February that college student Henderson was registered to vote with her Business Loop address, CID Executive Director Carrie Gartner told the Daily Tribune last month.
That threw a wrench in the plans of the CID's board of directors to hold an August election on the half-cent sales tax increase, projected to bring in about $220,000 for capital improvement projects.
Don't try to 'queer this election'
Henderson opposes the tax proposal. She told the Daily Tribune that Gartner "tried to get me to unregister, and that's pretty manipulative."
She faced pressure from other influential voices: The editor of the Daily Tribune accused Henderson, who "presumably" won't live in the district for much longer, of trying to "queer this election" because of her "angst."
Henderson pushed back against her critics, saying in a followup Daily Tribune story this month that voters should have the opportunity to vote on wallet-breaking sales tax proposals.
"Why should the vote of these people who have all this money and power matter more than the voice of the people?" Henderson said.
The CID board "debated redrawing the district's boundaries to exclude Henderson or lobbying to change state law" but decided to postpone any action, the Tribune reported.
Following queries from The College Fix and a local radio station last week, the Boone County clerk revealed that everyone was wrong: The CID actually has 14 registered voters including Henderson.
The uphill climb faced by property owners – convincing those newly discovered registered voters to support the tax hike or unregister themselves en masse – led the CID board to nix the special election altogether, placing proposal on the back burner for the foreseeable future, the Missourian reported.
Taxation without representation
Henderson's experience with Business Loop 70 CID leadership has motivated her to take up the mantle from colonial America pastor Jonathan Mayhew, who allegedly coined the phrase "no taxation without representation" in a sermon in 1750.
The collusion of local government and business owners shows that officials and politicians want to obscure the issues so they can pass exotic policies without a full debate, Henderson told The Fix in an email.
"It's like the government wants us to vote on issues, which we should, and yet it is hard to find information to make a sound decision," Henderson said. The city planners in Columbia intentionally tried to hide their intentions, she added, making it difficult for regular people to find about the things that affect their daily lives.
"We can't all invest this much time into all of the elections presented to us each year because we wouldn't be able to get anything else done," she continued. "All we can do now, is do the best we can in educating ourselves."
It's troubling that the city council and CID can raise taxes in such a nefarious manner, Henderson said. "I don't think it's constitutional to be taxed without having a say in the matter."
That's why she "chose to stand up and reach out to my neighbor[s] and find out how they felt about this tax and how they felt about having no say" whatsoever in what happens in their community. Henderson has retained a lawyer in the dispute.
'They can barely afford to go buy food'
Henderson has been making her case in other venues. Earlier this month she told the Mid-Missouri Freedom Forum, a public access radio show in Columbia, that the tax proposal is a raw deal.
The CID project's outlines are vague; Gartner's administrative pay is too handsome; the improvements will benefit businesses at the expense of nearby residents; and the additional sales taxes will hurt low-income people, particularly students, by taxing their groceries above what they can afford, she told the radio show's listeners.
Though she didn't expect herself "to be thrust into this position," Henderson said, "I think I am the girl for the job."
Noting that Gartner "is going to be making like $70,000 a year off of this whole deal," Henderson told the Daily Tribune that her neighbors "make a quarter of that. They can barely afford to go buy food, and you're taxing their food."
Voters had every reason to expect that business interests would prevail again: Gartner got a one-half of 1 percent sales tax passed in Columbia's other CID, located in the downtown area, during the November 2011 election.
Her merchant group at the time hired a "high-powered political consultant" to persuade the estimated 150 registered voters in the CID – which included apartments occupied by Mizzou students – to approve the tax proposal, according to George Kennedy, a professor emeritus at Mizzou, in a critical Missourian op-ed then.
Of those registered to vote in that year's special election, only 40 voters went to the ballot, with 25 supporting Gartner's 2011 sales tax. The hike affected more than 100,000 Columbia residents.
Like The College Fix on Facebook / Follow us on Twitter
IMAGE: Bob Simmons/Flickr